Facebook's acquisition of messaging app WhatsApp sent the technology world into a frenzy yesterday, not least because the social network paid a whopping $19bn for the app.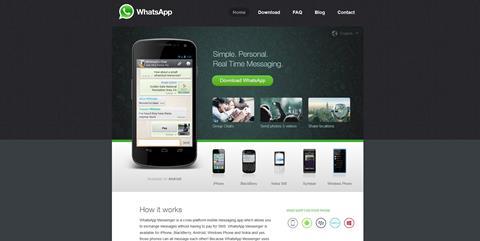 Retail Week takes a look at what the figure, equivalent to £12bn, would get you in UK retail.
Facebook purchased photo-sharing app Instagram for just $1bn less than a year ago which was seen as a massive sum at the time, and it puts the price of WhatsApp into context.
The deal has represents a significant statement of intent for Facebook, as it aims to make mobile messaging a big part of its future. This could have implications for retailers' marketing strategies, depending on how Facebook decides to develop the platform, and depending how consumers' use of the medium develops.
What is impressive is that an app, something which is just part of many retailers' multichannel strategies, has become so valuable. It's clearly worth employing talented developers or thinking about creative ways of using apps, because a £12bn valuation is no mean feat, as the figures below show.
For the price of WhatsApp you could buy:
Half of Tesco, valued at £26.4bn
Almost two Sainsbury's, valued at £6.56bn
Morrisons (£5.5bn), Sports Direct (£4.3bn) and Dixons Retail (£1.8bn) with change left over
Eight Home Retails, valued at £1.5bn
Twelve Ted Bakers, valued at £960m
Next, valued at £9.9 billion with some cash left over
Nearly two Burberry's, valued at £6.7bn
Asos twice over, valued at £5.5bn
WHSmith nine times over, valued at £1.3bn
£12 bn would also buy you: N Brown Group (£1.65bn), Home Retail (£1.5bn), SuperGroup (£1.3bn), WHSmith (£1.3bn), Ted Baker (£960m), Debenhams (£928m), Halfords (£891m), JD Sports Fashion (£671m), Carpetright (£412m), Majestic Wine (£322m), Topps Tiles (£263m), Findel (£246m), Mothercare (£226m), Laura Ashley (£180m), Thorntons (£106m), Moss Bros Group (£89m), French Connection (£49.9m).
Which means you could buy 17 retailers for the price of WhatsApp.