The winner of the AlixPartners Growth Retailer of the Year Award is now far removed from its origins as the Littlewoods catalogue business.
Under the direction of chief executive Alex Baldock, home shopping group Shop Direct has become 100% digital following the cull of its last remaining catalogues in 2015. This is a huge move in comparison to 2012, the year Baldock was appointed, when catalogue orders accounted for three-quarters of sales.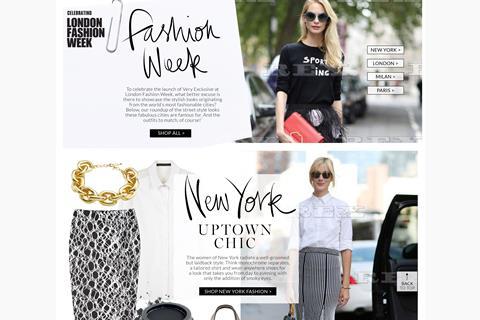 Illustrating the online focus, visits to the website broke through the 1 million a day mark last year.
The group's most recent financial results show that Shop Direct is benefiting from this shift in strategy. In the year to June 2015, sales through its retail activities – which excludes the Yodel fulfilment business – increased 2.6% to approaching £1.4bn.
This was largely driven by Very, which achieved sales growth of 21.1% to £850m, although partially offset by declines at some of Shop Direct's smaller brands that have since been closed or subsumed into its two power brands: Very and Littlewoods.
Both offer goods on credit and carry a department store range across categories including fashion, sports and leisure, home and garden, electricals, jewellery, toys and gifts.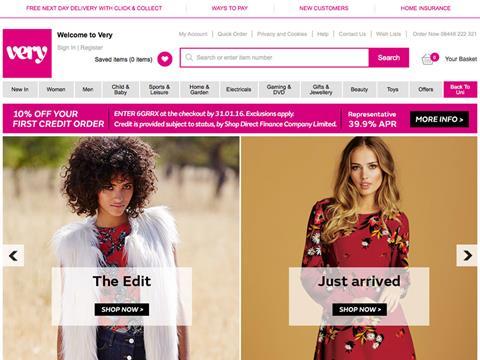 Where the brands are differentiated the most is in their fashion offers.
The Very young fashion brand competes head on with Asos and Next Directory and is now the group's biggest brand in terms of sales.
Littlewoods has an older target market than Very and describes its core customer as being a busy mum who is attracted by the option to pay in interest-free bite-sized amounts each week.
Profits increase
The group has upped its technological capabilities in recent years and this has had a beneficial impact on profitability.
Shop Direct's pre-tax profit increased 75% to £56.3m in 2014/15, which it said was driven by investment in big data and personalisation.
The retailer aims to "offer each customer an experience as unique as she is". Baldock says: "We've tailored her online experience, including the marketing that brings her in, the online shop she then enters, and the way we engage with her after she's bought. Our investment in big data and technology has started to pay off and is making these new levels of personalisation possible."
"The competition is ferocious so we must and will continue to invest heavily in our digital future, and keep up the pace on our transformation"

Alex Baldock, Shop Direct
But while Shop Direct has reported a profit over its last three financial years, Baldock feels there is still more work to be done.
He says: "We've only scratched the surface of the full potential here. The competition is ferocious so we must and will continue to invest heavily in our digital future, and keep up the pace on our transformation. These are exciting times for Shop Direct."
AlixPartners
It's never been tougher in retail: Stressed consumers. Disruptive technologies. New international competitors. Constant pressures on margins.
AlixPartners is a leading global business advisory firm of results-oriented professionals who specialise in creating value and restoring performance. We thrive on our ability to make a difference in high-impact situations and deliver sustainable, bottom-line results.
Our services focus on creating and implementing practical solutions to the core methods of increasing margins, decreasing costs, and providing sustainable strategic advantage for companies at all stages of the business lifecycle.
For more information, visit Alixpartners.com