A fleet of ground drone robots will be launched by Starship Technologies in London to help retailers provide quick and cheap deliveries.
The bot, created by Skype co-founders Ahti Heinla and Janus Friis, is a battery-powered box on wheels that is able to make its way through streets, navigating around objects and people.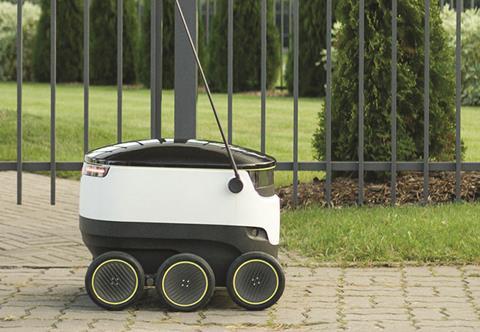 The pair, who recently launched start-up Starship Technologies, are aiming to reduce retail's carbon footprint as a third of car journeys in the UK are made for shopping trips, as well as revolutionise local deliveries.
The drones, which are part of a €25m European Union 'smart cities' project, will be trialled in Greenwich, south east London, starting in March and are expected to be popular with small independent retailers wanting to make local deliveries.
The six-wheeled vehicle travels at 4mph, has a two-hour battery life and will make deliveries within a three-mile radius and within 30 minutes. It can carry about two bags worth of goods, weighing up to 20lbs, and the recipient can track its progress.
It is guided by GPS but is monitored by a person who can take over navigation and speak to people if necessary.
The cargo bay is locked throughout the journey and is opened at its destination by the recipient's smartphone. The cost of a journey would be "almost free", according to Starship Technologies.
The drone features its own security system – nine cameras to capture images and speakers to warn off would-be thieves and vandals.
Starship Technologies adviser Keith Cornell told the Evening Standard: "We want to get public acceptance and show that it works. It's not obtrusive and it's not scary, most people say it's cute."