Disney is launching an ecommerce platform across five European markets as part of a drive to appeal to shoppers beyond its "traditional and expected" customer base.
The global entertainment titan, which operates 80 Disney Store locations across Europe, will introduce transactional websites in the UK, France, Italy, Spain and Germany on Wednesday.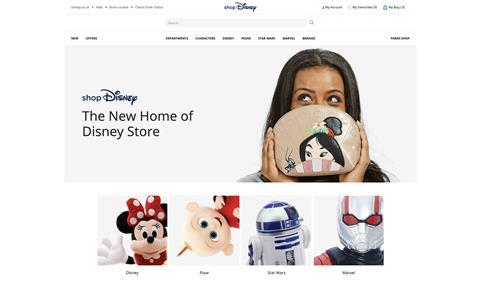 The business said the shopDisney websites would offer a "one-stop shop" destination, selling products from the Disney, Pixar, Star Wars and Marvel brands, as well as merchandise sold in its theme parks.
It will also offer co-branded products and collaborations with brands including Clarks, Lego, Swarovski, Samsonite and Garmin.
Disney said the websites will focus on the fashion, accessories, home, collectibles, toys and baby categories, and also offer a range of personalised and customisable products.
It said the broad proposition would "appeal to a range of different audiences beyond the traditional and expected, from kids and families to teens and young adults".
Disney Stores Europe managing director Graham Burridge said: "We know that people love the Disney brand and we are now giving fans what they want, a virtual Disney department store offering the broadest range of Disney product out there, bringing together the Disney Store ranges you know and love plus Parks merchandise and the best brand collaborations such as Clarks, Lego and Samsonite."