Shoppers will be able to make bigger purchases using contactless payment cards from today after the limit was raised from £20 to £30.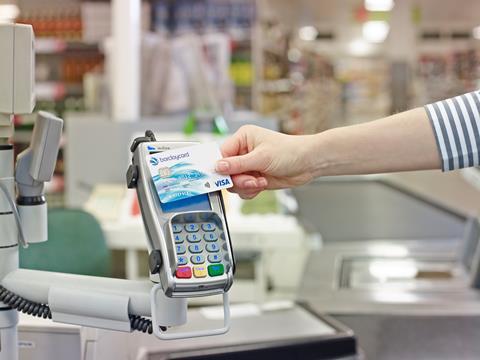 Contactless payment limit raised from £20 to £30
Limit increase is the third to have taken place since 2007
Comes after £2.5bn was spent using contactless cards in first half of 2015
The move comes as use of the payment method booms in the UK, where there are now 58 million contactless cards in use. According to the UK Cards Association,£2.5bn was spent using them in the first half of 2015.
Card providers expect the number of people using contactless payments to rise further, by around 60%, following the spending limit increase.
Barclaycard, which processes half of all credit and debit cards in the UK, said that the amount consumers are spending on contactless cards has soared 150% since September 2014. It added the number of transactions has also more than doubled, jumping 134%.
A third of all contactless payments are used in supermarkets, where the average shopping spend is £23. It means shoppers should be able to use contactless payments for more transactions from today.
Dave Hobday, UK Managing Director of payment processing company Worldpay, said: "The contactless revolution is in full swing and Brits are increasingly adamant about paying with just a tap of their card or their phone. Increasing the limit to £30 will only intensify the demand for convenience and speed everywhere we shop.
"With card sales on the high street bounding ahead, the case for moving to contactless has never been clearer. Businesses that don't make the move will be left in the dust and even risk driving loyal customers away."
But shoppers have been warned that not all retailers will be able to offer the new limit straight away because software updates will need to be made to contactless payment terminals.
The limit increase is the third to have taken place since the "tap and go" payments were introduced back in 2007.
The last increase was made in June 2012 when the limit was upped from £15 to £20. It had previously been raised from £10 to £15 in 2010.