The athletes may be the stars of the show, but London 2012 is proving to be a challenge for retailers too. Rebecca Thomson looks at the supply chain conundrums it will bring.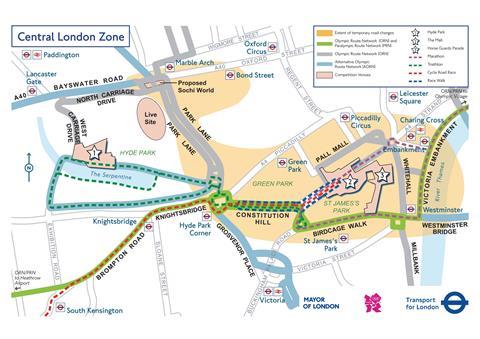 Much has been made of the economic opportunity the Olympics represents for retailers – tourist spend, high footfall, global brand exposure, and consumer confidence are all expected to boost the UK economy. But it's not going to be simple. The Olympics will also bring major disruption for retailers from a supply chain perspective. Deliveries must happen at unearthly hours, certain routes are restricted and large crowds must be managed.
Retailers' only defence is to plan meticulously. Ian Hicks, transport development manager at Sainsbury's, said earlier this year: "You need to minimise the impact by understanding the challenge early. You need to be open to change and understand the whole supply chain, not just individual elements."
At the moment, however, detailed planning is not an easy thing to do. Large swathes of London will be covered by the Olympic Route Network, shown above, which will reserve lanes for Olympic traffic and where retail deliveries will only be able to take place between midnight and 6am. Deliveries for some stores will be heavily affected because of the restrictions, and there will need to be enough staff on hand to deal with them. Making sure staff can actually get to work is a consideration, as crowds and restrictions will make travelling in London a challenge at times.
Getting from A to B
Congestion will be heavier than normal, but Transport for London (TfL) hasn't yet released details on exactly which postcodes will be most affected. Retailers are also waiting to hear other details, such as exactly where right turns will be restricted so delivery drivers can be briefed. TfL says a lot of the in-depth information will be available by December, and that more is being added all the time to its website at Tfl.gov.uk/orn.
"It's all up in the air," says Mark Parsons, vice-president of business development in the UK and Ireland at delivery company DHL. "The priority for the Games organisers is for the athletes and officials to turn up without getting lost. For them everything else pales into insignificance, even if it means the economic boom everyone's predicting is going to be compromised."
In some areas, retailers and delivery companies will never know exactly what is going to affect them. Security officials will be tight-lipped right up until the event on what measures they are putting in place – so media hub Russell Square, for instance, will be an area of high security with 20,000 journalists based there. However, it won't be clear exactly what "being an area of high security" means until the event starts.
But there's little point complaining, Parsons says. The Olympics is a once in a lifetime event, notwithstanding the challenges, and retailers stand to gain overall. The best approach is to realise the optimal answer will be different for everyone, and the most important quality retailers can have over the Olympics is flexibility – they will need to be able to react quickly to things they didn't know about and anything that changes.
One day at a time
It's not just freight deliveries that will be affected, but online deliveries too. Retailers will have to manage the expectations of customers living in affected areas, and big-ticket goods will be particularly difficult to deliver. In some areas, delivery teams might have to carry goods for the last section of the journey, or customers may just have to be told delivery is not available.
Tesco says it will provide information on its site on which postcodes are likely to be affected, and how services are changing. Richard Warren, programme manager at Tesco.com, says grocery delivery will be managed in a similar way to how it deals with events such as the marathon. "Our response will be on a day-by-day basis. There will be issues but fundamentally we will still be operating services. We'll restrict deliveries where we have to on certain days – we won't need to reduce it the whole time."
Parsons says some retailers are considering cutting back more drastically on their online delivery services, with some postcodes potentially not being able to receive goods during the event. But it's a difficult decision to make – the potential for lost sales will be staring retailers in the face. "We are having meetings with retailers to try and work through what their solutions are. Most are currently working out what their forecast should be in terms of which stores will need to be ready from a logistics point of view."
DHL is considering running a response centre during the Olympics so it has a central hub for retailers to contact and find out about the latest updates and how they will be affected. Parsons says it will be helpful to have somewhere central to deal with a constant influx of information. "If there's a security shut down and our customers have a commitment, we need to let them know as soon as possible that they'll need to work around it."
The spoils the Olympics promises to bring are still within reach, but they'll only come to those who put the work in. If the predictions of an economic boom are to be believed, the effort required now will be worth it.
How Sainsbury's is preparing for the Olympics
Ian Hicks, transport development manager at Sainsbury's, said at a DHL event earlier this year that the retailer plans to take a holistic approach to the Olympics, looking at all aspects of the supply chain. The depot, suppliers, stores, online business and customers will all be taken into account.
Sainsbury's looked at the stores that would be affected by the Olympics – counting 186 stores within the M25 – and it found it generally makes 700 deliveries to its stores within the M25 within 24 hours. The retailer then gathered information on what restrictions are planned around those stores. It also looked for supplier locations outside London that would not be affected by the Olympics.
Hicks advises having strict milestones, and keeping rigidly to the plan that is decided on: "Otherwise it pushes a certain milestone to a more critical time."
He says retailers should consider having a checklist to make sure they're ready for the event, and should look at:
Whether suppliers are prepared to meet possible spikes in demand. Hicks says they need to be considering this now
Ensure depots are getting enough goods in, and have the correct resources in place
Stores may have greater demand for stock, but may also have to cope with unusual delivery times and reduced delivery windows. There will need to be plenty of colleagues on hand to deal with these deliveries
The hurdles - restrictions retailers face
The Olympic Route Network will, where space allows, have temporary Games lanes in place. Only Olympic traffic including athletes, officials and the media will be able to use these lanes, which will cover around a third of the entire network
Across the route network, there will be some changes to traffic signal timings
The network will have some restricted turns, so delivery drivers used to going a certain way may need to be briefed if their normal route needs to change. Details on the restrictions will be released later in the year
There will be some suspension of parking or loading bays, although again details have not yet been released
The network is relaxed between midnight and 6am, so these restrictions will not be in place between those times
It's important to think through the whole supply chain rather than simply focusing on London. Suppliers outside the capital need to be consulted to ensure they are ready to deal with the upheavals and provide the right amount of product at the right time