From lockers to drive-thru collection, fulfilment is a hotbed of innovation. We look at some of the most inventive solutions from around the world.
Fast, efficient and cost-effective fulfilment is the backbone of any successful ecommerce operation. As UK retailers move to optimise their fulfilment, we take inspiration from innovative overseas solutions that are changing the way people shop and think about stores.
Walmart and Zara's automated parcel pick-up
In January, the Asda store in Manchester's Trafford Park introduced the UK's first automated 'BOPUS' (buy online pick-up in store) kiosk in the UK with considerable fanfare.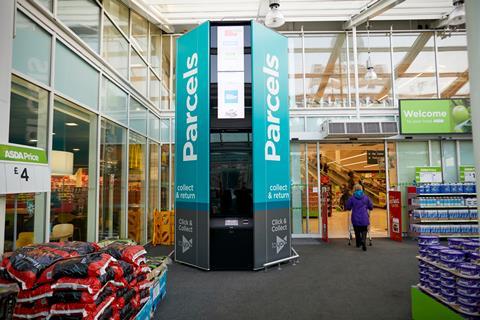 Asda parent company Walmart has been rolling out these automated parcel storage and collection systems since 2016.
To use the tower, shoppers need to scan a barcode on their purchase receipt. Within 45 seconds, a door on the machine opens and items appear on a conveyer belt.
Standing 16 feet tall and eight feet wide, these giant towers are only appropriate for large stores. However, they offer a faster service than manned collection counters and are more flexible than traditional parcel lockers.
They can hold thousands of packages inside and – unlike parcel lockers – can adjust the size of the compartments where packages are kept, making optimum use of the space.
The towers are located near the front of the store, making a pick-up trip as quick and convenient as possible.
A shopper who comes in to collect their online order can skip the tedious collection queues and use the time saved to browse the in-store assortment as well.
By placing convenience items near the kiosks, Walmart is making the most of its front-of-store and maximising the value of the trip.
Last year, Inditex-owned Zara introduced a similar solution at a store in Spain.
The machine, designed by Estonian start-up Cleveron, can hold up to 4,000 packages at a time and its design allows for lots of customisation – retailers can choose its height and width and even hide it behind a wall.
For both the Inditex and Walmart towers, automation is used to streamline and improve the click-and-collect experience, in an effort to steer shoppers away from the costliest option of home delivery.
Key takeaways
Automating in-store pick-up makes the option more convenient and incentivises shoppers to visit the store
Adding such services can relieve the stress on fulfilment capabilities caused by home delivery
The main selling point of Cleveron machines is their adaptability – as automated pick-up becomes more ubiquitous, these solutions will need to fit seamlessly inside of the store
When adding such a solution, retailers need to make sure these increase speed and convenience, as clunky, poorly functioning technology will only alienate shoppers
JD.com's white-gloved luxury delivery
Fulfilment options are becoming increasingly polarised. While some retailers gravitate towards increasingly cost-effective fulfilment options, others prioritise convenience and a premium experience.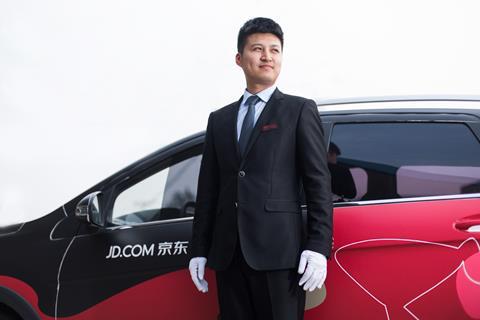 One example is Chinese online giant JD.com. Last year, the company rolled out its new luxury ecommerce website Toplife.
Besides its assortment of luxury goods, the portal's main point of differentiation is what it calls its "white-glove delivery service", which features "good-looking young males" delivering products to customers' front doors, driving cars instead of electric tricycles – the traditional transport for delivery companies in China – in suits, complete with ties and white gloves.
The service even features the pick-up of returns from the customer's door.
This is a sharp pivot for JD.com, which, like Alibaba, found its initial foothold by appealing to the mass consumer.
Key takeaways
A 'white-gloved' premium delivery service adds differentiation and can serve as an incentive to shop with a luxury retailer
Premium delivery services could also be a revenue generator
Walmart's personal shopping offer
In November 2017, Walmart took a page out of JD.com's book and tested a premium service aimed at an upmarket shopper.
The trial, first launched in New York, includes a half-hour delivery window and free door-to-door returns, although it skips the additional flourish of a black-tie-wearing courier.
Like JD.com, this is Walmart's way of diversifying its shopper portfolio and moving into a higher-margin category.
The retailer, known for targeting a value-conscious shopper, has been on a path to rebrand itself for the past two years.
The personal shopping service, launched by Walmart subsidiary Code Eight, is just one of many avenues the retail giant is exploring on its path to rebrand as a flexible multichannel player.
Due to the high cost, this service will prove difficult to expand beyond its original demographic. However, it does indicate the direction the business will take over the next five to 10 years, by rolling out increasingly personalised and convenient services and concepts, growing and connecting the various parts of its business and targeting a diverse shopper portfolio.
Key takeaways
Premium fulfilment can help a retailer reposition itself and reach a more upmarket shopper
Such services are difficult to operate at scale and best used for promotional purposes
Amazon infiltrates residential areas with parcel lockers
In July 2017, Amazon released a service it calls The Hub – lockers designed to be installed in multi-tenant dwellings, allowing residents to receive bulky packages and pick them up at convenient times.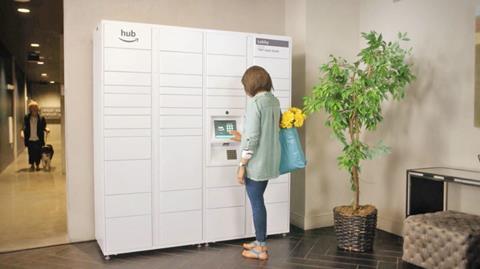 What's different about the service – besides its location – is that it's a delivery option available to anyone, not just Amazon and its affiliates.
The Hub lockers are securely locked and users can gain access using their mobile phones or by inputting a PIN into The Hub dashboard.
This solution adds a layer of convenience to home delivery. However, it is not easy to scale and is highly specific to the American culture of apartment blocks. As of October, Amazon had already signed contracts for 850,000 units.
Key takeaways
Providing a fulfilment option to third parties can create an additional revenue stream
However, the extreme proximity options like these could come across as invasive to shoppers
Facial recognition for parcel lockers
Parcel lockers are one way retailers have been solving the last mile, and so tech companies continue to innovate around the security and convenience of this option.
Last September, two businesses that Alibaba has a stake in – Cainiao Network and Ant Financial – collaborated on a test of facial recognition technology that will allow users to unlock delivery drop boxes.
The solution is currently being tested in Shanghai by Cainiao and partner delivery companies. A number of specially equipped kiosks have been installed at five locations in Shanghai's financial district, with cameras scanning people's faces to verify their identities. A nationwide rollout is in the works.
Crucially, the service is tied in with the Alipay digital wallet, allowing the app to scan a user's face and link it to their personal information. This then brings a drop box user into the Alibaba digital ecosystem. It's a convenient solution for shoppers using Alibaba platforms and services, and provides the retailer with a wealth of shopper data.
Key takeaways
Innovating around the security of collection lockers can reassure shoppers about the safety of their orders
As more retailers adopt automated pick-up, this could be the feature that leads shoppers to pick one option over others
In-fridge delivery
In another iteration of 'creepy tech', Walmart has been testing a service that delivers groceries straight to a shopper's fridge. Last September, the retail giant partnered with August Home, a smart-lock start-up that allows a delivery person to enter a shopper's home, put their online order away and exit, with the door locking securely behind them.
The delivery person wouldn't be able to walk back in until the next delivery is scheduled, which is a result of the security implemented by August Home tech.
The success of this particular solution beyond its original target market of Silicon Valley dwellers is questionable. It's unlikely that the average online shopper is quite ready to let a Walmart associate into their home. However, it does indicate one possible direction of travel for fulfilment – increased convenience at a premium.
Key takeaways
Retailers will need to offer increasingly convenient options that go beyond home delivery
As technology like smart-locks open up new avenues for fulfilment, retailers need to make sure to toe the line between convenient and invasive