The Co-operative Group has completed an eight-year update of its supply chain to address efficiency, costs and availability. David Brooks meets supply chain director Mark Hale to find out how the investment is paying off.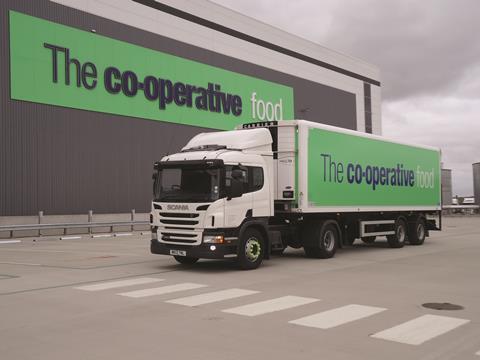 Earlier this year The Co-operative Group opened its new distribution centre in Castlewood, north Derbyshire, concluding an eight-year journey to modernise its distribution network in order to improve service to stores and customers.
The group's supply chain director, Mark Hale, explains the logistics facilities at many of its sites needed updating and it wanted to reduce the number of its depots - at one time, it had an unwieldy 36. Through Project LIDIA (Logistics Integration and Development to Improve Availability), the Co-op has streamlined its network to a national distribution centre for slow-moving grocery lines, eight large regional composite centres for the quicker-moving lines across all temperatures, and several local service centres to optimise transportation.
Hale says: "A lot of the sites were old and tired and single temperature. The whole vision was to collapse down from these 30-odd sites into a network that was optimised around our store portfolio, with modern facilities
that would be scalable for our business moving forward."
The modern facilities have paid immediate dividends as features such as multi-temperature storage have allowed the retailer to increase its delivery frequencies to stores, ensuring they are stocked with fresher products.
Fresh food is a critical battleground in grocery and the Co-op's new Fresh format, rolled out to more than 250 stores, has put the onus on such products.
The LIDIA scheme means the entire store portfolio receives a minimum of six fresh deliveries a week, double what some previously received. The distribution centres provide multi-temperature storage, whereas before fresh, frozen and ambient were often held in separate locations. Lorries can also collect product from a single distribution centre and deliver all three types of product to store, making each delivery more efficient.
"We're able to offer more services now, such as the six-day fresh delivery cycle. That is a benefit that wasn't envisaged when we first started out, but we are now looking to grow the fresh side of the business," Hale says.
Greater efficiencies
The Co-op is also seeking to reduce lead times between the point of order and the store receiving the stock. In a recent trial the retailer cut in half the lead time on ambient goods from 48 hours to 24 hours in 20 stores.
"We just need to work through the results of the pilot to see the requirements of doing this for 2,800 stores and then how quickly we can roll this out," Hale says.
In the future, the Co-op is looking to further increase efficiency by using semi-automated single-pick functionality - the ability to add single products to individual orders - in its warehouses to "deliver the optimum amount of stock" for each product. For instance, Hale says the technology will allow the group to better fulfil high-value orders at more appropriate lower quantities. A store may only require one or two bottles of the more expensive whisky it sells, so the functionality means rather than a dozen bottles being delivered, the retailer can deliver the one or two needed.
Sustainability matters
The Co-op is keen to emphasise its ethics as a point of difference from its rivals, so it should come as no surprise that sustainability is high on its supply chain agenda. Hale says: "Sustainability is massive for the Co-operative Group due to our heritage and values."
The retailer is using sustainability measures to create cost savings, especially in terms of reducing wastage. It uses its lorries to deliver product to store and pick up waste, which is returned to the distribution centre to be recycled, re-used, turned into energy or sold on.
The scheme, which won an IGD Industry Award for Environmental Sustainability, diverts food store waste away from landfills and reduces road miles and operating costs.
Hale says: "In the last couple of years we've been working on reducing waste in our supply chain. There are cost savings there, as well as it being environmentally the right thing to do. We are now seeing between 40% and 50% cost savings and we have zero waste going to landfill across all of our food store estates."
Elsewhere, the Co-op aims to reduce wastage by delivering the right amount of stock to the right stores in the first place.
Hale explains: "At the same time as maintaining availability, I've got big targets in place to ensure we get those replenishment quantities right so that we do not have to put stuff in the bin."
The retailer's sustainability efforts also include a transport optimisation programme designed to reduce the road miles of deliveries and use fuel more efficiently. As part of this the Co-op has more than doubled its use of rail freight in the past three years, and now more than a quarter of its produce is transported via rail between Coventry and Scotland.
End-to-end supply chain
In addition to sustainability, one of Hale's focuses this year has been on taking an end-to-end perspective of the supply chain as part of his aim to optimise the process "every step of the way, from supplier to shelf".
The Co-op now aims to collaborate with suppliers more effectively by sharing forecasts, demand plans and working with them on their production run, in a bid to get stock in store in a more timely way.
By taking this end-to-end approach, Hale says he is prepared to channel costs into the warehouse to deliver benefits elsewhere in the business. For instance, the warehouse now separates promotional stock and core stock before it arrives at stores to save time and effort in the store. "The overall benefit across our store estate is greater by about 50% cost wise," Hale says.
In future the Co-op will continue to tackle increasing shelf availability and taking waste and excessive stock out, according to Hale.
He concludes: "The challenge and opportunity is getting the balance right between driving up availability and service to stores while driving out costs in both waste and stock in a measured way that benefits the customer."
Sourcing and provenance
The Co-op was less tarnished than some of its competitors by the horse meat scandal, but that hasn't prevented it from being vigilant to ensure such a problem does not happen again.
The group has implemented "robust" controls in its supply base in conjunction with an extended programme of finished product testing for all meat products, which includes DNA testing.
The frequency of announced and unannounced supplier audits has been reviewed and is based on a process of risk assessment.
Hale highlights that the business has also made a commitment to British-sourced protein, explaining: "Provenance for customers is vitally important and very high on our agenda."
Online grocery trials
Although the Co-op has made strides in the past few years in updating its supply chain, it is still behind in terms of its ecommerce offer.
At present the retailer allows customers to shop in store and have orders of more than £25 delivered for free, but recently revealed it is to trial online grocery before Christmas.
Hale says it is too early to tell what the supply chain model will be in the future for fulfilling online orders.
He adds: "We want online to be successful.
It's a growing channel so we do see it as important, but our plan at the moment is to test and pilot click-and-collect and see how that goes."