For some retailers, portcentric distribution is an appealing option with leading names such as Marks & Spencer, Asda and Tesco fully committed to the model, while others are adopting it on a short-term trial basis for seasonal lines. Simon Jack analyses its pros and cons.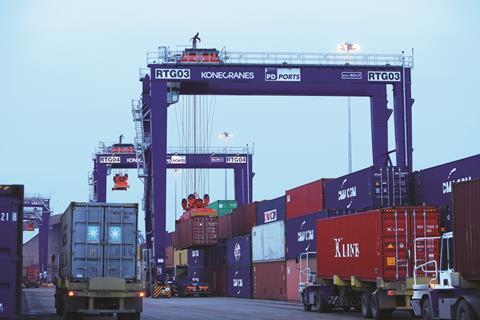 An increase in the number of imported goods, high fuel prices and the desire to improve environmental performance have given retailers increased motivation to explore the idea of portcentric distribution. The supply chain strategy involves situating distribution operations close to a port to avoid unnecessary journeys to and from an inland warehouse.
This summer Marks & Spencer announced plans for a major facility at DP World's new London Gateway port, while Asda is using a warehouse at Teesport, near Middlesbrough, for its George clothing range. Others are investigating the idea to see what it could offer their supply chains.
The M&S facility will be 900,000 sq ft, with construction due to start in 2014. When it is fully operational in a couple of years' time it will deliver to stores in the south of England and distribute imported products to M&S's warehouses in Bradford, which serve the north of the UK, and Castle Donington, which handles online orders.
Emile Naus, head of logistics strategy at M&S, says a key aim is to remove repetitious journeys to southern stores, with products being sent to warehouses in the centre of the country only to retrace their steps. "The products we import tend to come into Felixstowe and Southampton and at the moment roughly half of them end up coming back in that direction," he explains.
Retailers taking warehousing space at DP World London Gateway will also benefit from greater control of the supply chain. "Over time, retailers can get greater predictability and reliability, and can start buttering down rather than up," says DP World London Gateway supply chain commercial manager Peter Ward.
M&S has not revealed exactly what financial benefit the new facility will bring, although it is part of an IT and logistics transformation programme launched in 2009 to produce savings of about £350m per annum by 2016.
The retailer believes taking vehicles off the road will create environmental benefits as well, something that will be boosted by the use of rail. Its new facility will form part of a 9.25 million sq ft logistics park, which will include several rail terminals. M&S will send products to Castle Donington - which has its own rail terminal - and Bradford through multi-user terminals in either Wakefield or Sheffield.
Naus says that despite its advantages, portcentrics is by no means a panacea. "It provides a great solution in the right environment. For our store deliveries in the south it is excellent. But for online sales we need to be in the centre of the country so that we can provide a quick response to customer orders," he says.
Asda is already using a portcentric facility run by Clipper Logistics at Wynyard, close to Teesport, for its George operation. Imported clothes are taken out of shipping containers and prepared for sale before being sent out to George's three regional distribution centres (RDCs).
Stock can be held at Wynyard if necessary, relieving pressure on the RDCs and speeding up the movement of product from the warehouse to the store shelf.
Asda distribution director Ian Stansfield says: "The flexibility of the facilities we use means that our stock can be processed efficiently and effectively for any retail format, whether that be online or on the shelves."
Both Asda and Tesco were part of early movements towards portcentrics when they opened distribution centres at Teesport in 2007 and 2008 respectively. Caroline Sindrey, Tesco's group distribution environmental manager, says the port has allowed the retailer to reduce the number of trucks on the road, and in turn its CO2 emissions as it begins shipping products from Poland to Teesport.
Geoff Lippitt, business development director of Teesport's owner PD Ports, says: "It's a question of providing agility in the supply chain, especially for multichannel retailers. They need the ability to increase or decrease flows of product to various locations."
Dipping a toe in the water
While some retailers are fully committed to the portcentric model, others are taking a more cautious approach.
That is the case at Pets at Home, as the retailer's logistics director Phil Hackney explains: "We will be doing a trial of portcentrics within the next 12 months probably involving seasonal product. Then, if that is successful, we will start to build it into our strategy going forward."
The retailer's largest product category, pet food, is mainly sourced in the UK and Europe and suppliers will continue to deliver it to Pets at Home's distribution centres in Stoke and Northampton. But it has increased annual imports of pet accessories and dog treats from the Far East tenfold in the past five years. At present these containers come directly to the distribution centres, where they are unpacked. "It causes congestion and takes up both space and time," Hackney says.
The retailer is now considering unpacking containers at two points in the north and south of the UK to drive efficiency and increase the available capacity at its existing distribution centres. It has held preliminary discussions with both a port and a logistics provider about using such a service and is examining any cost implications.
Homebase at the moment deals with containers at its distribution centres in Swindon, Cowley and Wellingborough. Chris Warn, general manager of inbound supply chain at the DIY retailer, says that although there is no negative impact at the moment from this approach, the business would consider port facilities in any future development of its logistics infrastructure.
However, any benefits in efficiency and reduced costs would have to be balanced against a possible over-reliance on one port of entry - the company currently uses Felixstowe, Southampton and, for Christmas deliveries, eight regional ports. The portcentric approach could also lead to too much product arriving on one vessel, increasing the risk to product flow from any maritime incident.
"Despite these concerns, portcentrics still provide the greatest opportunity to drive sustainable longer-term cost benefits," Warn says.
One important advantage for retailers using portcentrics would be a reduction in lead times, according to Iain Liddell, managing director of logistics provider Uniserve, which plans to open 1.5 million sq ft of portcentric warehousing at Felixstowe and London Gateway.
"By establishing a southern distribution centre at the port, the retailer's primary receiving warehouse that would be located in the Midlands is essentially by-passed and between one and three days of lead time is won back, enabling a more responsive supply chain," he says.
Not for everybody
But despite the benefits for many retailers, some do not see portcentrics as relevant to their business. Dixons Retail, for example, finds the most efficient way to manage its stock is to hold all of it at its national distribution centre in Newark, which serves both the stores and online channels.
The retailer mainly imports bulky white goods that are vulnerable to damage if handled extra times at a port. Many of its other lines are imported by suppliers and delivered by them to Newark, so Dixons is not responsible for the movements through the ports.
Tim Allinson, Dixons Retail's logistics director, comments: "The argument against having distribution facilities close to a port is simple from our point of view. We mainly ship high cube white goods and we want to get the product as close to the customer as possible and have the least amount of touch points possible."
Jeremy Ross, managing director of logistics consultants Seven Summits, which has advised the Port of Tilbury and individual retailers, says that whether or not portcentrics is beneficial depends on the volume of imports, the type of product, its origin and the delivery method. But there are many ways it can be used by a retailer.
"It certainly isn't the case that one size fits all. Portcentric warehousing could be used as a transhipment point, a home delivery centre or just for Christmas. There is a raft of different opportunities," he says.
With that in mind it seems likely that more and more retailers will look seriously at the idea.