As cut-off times for next-day delivery get later, and same-day delivery becomes more widely adopted, retailers' supply chains are being tested to the limit, writes David Brooks.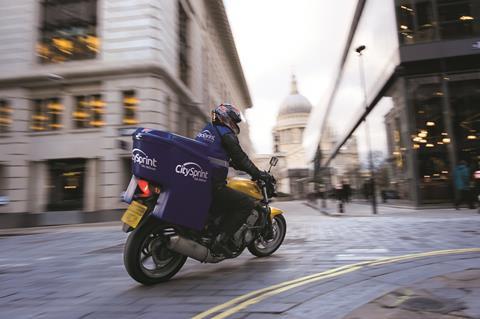 Consumers are becoming habitual online shoppers. In October Hermes Research revealed that 26% of UK consumers purchased goods online three or more times in the previous three months, equating to more than
12 million people.
And that trend is set to increase further. In the next 12 months 41% of shoppers already expect to shop more online, according to Hermes' report.
In response retailers are seeking to deliver more tailored delivery options for the increasingly demanding online consumer. But behind the scenes, services such as same-day delivery and later cut-off times for online orders are testing the supply chain to its limits.
John Lewis head of supply chain development Berangere Michel points out: "Bringing the offer to the customer is one thing, but underneath the surface the complexity of an omnichannel offer brings challenges. Some mean a lot of effort and that means a lot of cost."
Michel says one of the challenges of offering a variety of multichannel fulfilment options, such as next-day and click-and-collect, is ensuring the stock is available. John Lewis fulfils all online orders from its warehouses rather than its stores as it has greater stock visibility in its distribution centres. "You need to make sure that if you offer your customer something they want for tomorrow, it is there. Stock accuracy and availability of inventory in store is one of the challenges we face," she says.
Dixons also fulfils online orders from its warehouses. UK logistics director Tim Allinson emphasises that the challenge is maximising the availability of product for online and stores while not increasing inventory. Some retailers run separate warehouses for each channel, but Allinson says this drives up the amount of stock businesses hold.
He explains: "The challenge is to keep stock down but still give equal availability whether online or in store. In Dixons we put everything in one pot on our campus, so we've got four warehouses in one place. Whichever [channel] comes first, gets it first."
However, condensing stock into fewer locations makes offering same-day deliveries "more challenging". Allinson says businesses are addressing this issue by using depots for cross-dock operations, such as placing faster moving lines in smaller depots across the country.
Toy retailer The Entertainer fulfils online orders from stores. In a partnership with delivery specialist Shutl, it offers a 90-minute home delivery service in more than 50 of its store locations. However, The Entertainer's director of logistics, Tim Grist, says that to offer the service cost-effectively there need to be enough couriers to service the area.
He adds: "Another key consideration is proximity of our store to the customer. As our products are of relatively low retail value and bulky, the cost of delivery can quickly become a significant proportion of the total cost."
Patrick Gallagher, chief executive of CitySprint, agrees that a customer's location is a factor, but only up to a point.
The courier company commissioned a study of its fleet in peak hours in 2011 and found it could deliver to 81% of the population within 60 minutes. The business has since extended its coverage, and Gallagher adds "half the battle" is retailers having physical locations across the UK to pick up product from.
Gallagher says: "eBay has worked out a deal with Argos, and Amazon is building its own infrastructure. As we go forward I don't see same-day precluding anybody. The key is having the product locally."
Refined windows
In addition to speed, providing a defined delivery window is becoming increasingly important. Grist says there is "no doubt" that customers are demanding more certain delivery options.
The Entertainer will be introducing email alerts and text updates later this year for customers to track their parcels more effectively. He adds: "We work to improve the customer experience and expect to have to do this continuously to stay competitive."
For Allinson, offering refined windows and greater visibility to customers is made more challenging as cut-off times for next-day delivery get later. "Customers want the opportunity of next-day [delivery] and a precise time. Because you've got to fit the product on a vehicle into the schedule [for] the right postcode, that becomes a challenge, but one we are taking on," he says.
In the near future, clothing and general merchandise retailers will have to follow the lead of online grocers such as Ocado, which offer specific time windows for customers, according to Peter Fuller, director of logistics provider Norbert Dentressangle's retail business unit. He points out, however, that grocers have an easier task because of the routine nature of food orders, whereas fashion sales can be impulse purchases, which will make offering defined delivery windows more challenging.
He says: "There is volatility still in the world of clothing and general merchandise that makes it more difficult. But they're going to have to try, because consumers are speaking with their fingers and as ever the retailer will have to react to customer demand."
Fashion etailer Asos is responding to the challenge with 15-minute delivery slots through its Follow My Parcel service. This allows customers to choose a one-hour slot on the day of delivery and track their package in real time to within a 15-minute window of when it will arrive.
Asos has also been one of the front-runners in offering customers later cut-off times for online orders, and other retailers are following suit. For instance, department store House of Fraser introduced next-evening deliveries in August, which allow customers to order online up to midnight for home delivery the following evening between 6pm and 10pm.
According to Gallagher, later cut-off times is the number-one service CitySprint helps retailers offer. He adds: "You want to capture that guy who comes home and goes online, because those are the peak shopping hours. If you can offer next-day delivery [with a late cut-off] it becomes an impulse purchase."
Offering later cut-off times for next-day online orders again comes down to proximity to the customer. Dixons offers a 10pm cut-off and Allinson says internal and external collaboration throughout the supply chain is key to having the agility to offer the service.
He explains: "It's very important that each part of the supply chain works together, from your heads of merchandising making sure you've got the availability, to the core depot ensuring agility in the distribution centre.
[You also need to] work closely with your home services team, as well as communicating and working with suppliers, especially on out-of-stocks."
For businesses such as Dixons, John Lewis and even Asos with its Collect+ service, a local physical presence is a key component of their fulfilment offers. Karan Puri, corporate vice-president of consumer services at IT and software company HCL Technologies, highlights that bricks-and-mortar locations provide an edge to multichannel that even pure-play online retailers such as Amazon aim to replicate by setting up neighbourhood delivery lockers and pickup points.
"Understanding the importance of setting up fulfilment touchpoints near [to consumers] is crucial. It is the most economical and fast option to fulfil customer orders," Puri says.
Grist agrees, but warns that retailers are going to have to continue to up their game. "What is clear is that missing a delivery, receiving a card and having the option to visit a 'local' depot or wait for another unspecified time on another delivery day is not the optimum model. The winning solution will be really local," he says.
As customers continue to shop more online, expectations about multichannel fulfilment will rise in turn. In response, retailers' supply chains will continue to evolve to offer quicker delivery, more accurate windows and increased localised fulfilment options to meet consumer expectations and remain competitive.