Shop vacancy rates increased for the first time since the first quarter of 2013 this October as footfall dropped 0.8% during the month.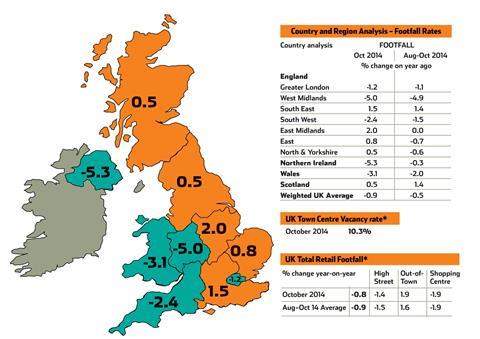 The town centre vacancy rate across the UK increased to 10.3% in October as it rose from July's rate of 10.1%, according to the BRC/Springboard Footfall and Vacancies Monitor.
The vacancy rate in Wales rose to 14.2% whereas vacancy rates in Northern Ireland and Scotland fell to 16.6% and 9.1% respectively.
British Retail Consortium (BRC) director-general Helen Dickinson said: "It's disappointing to see the first increase in shop vacancies since the first quarter of 2013. There had been some hope that the amount of empty shops would dip below the 10 percent threshold for the first time since we began collecting this data. This has sadly not transpired."
Shopping centres reported the largest decline in footfall as visitor numbers fell by 1.9% year-on-year during the month, while town centre footfall fell 1.4%.
Out-of-town locations fared the best as they recorded a 1.9% year-on-year increase in footfall.
The East Midlands recorded the greatest rise in footfall as it rose 2%, while the biggest decrease was in Northern Ireland as footfall dipped 5.3% year-on-year.
Springboard retail insights director Diane Wehrle said: ''The slight rise in the vacancy rate is not unexpected given the pressures on margins that retailers are facing, and which have been exacerbated by poor sales resulting from the mild weather over the last two months.
"More likely, however, it is the first evidence of the impact on retail locations of the large number of retail leases that are due to expire over the period to December 2015. We need to become accustomed to an increasing vacancy rate over the next year as this accelerates, as this will inevitably offer retailers an opportunity to vacate poorer performing locations."