When the switch was flicked on London's West End Christmas lights a couple of weeks ago, it symbolised not just the start of peak trading but brighter prospects for the shopping district. What is the outlook for the golden mile, and what will be the repercussions, asks George MacDonald.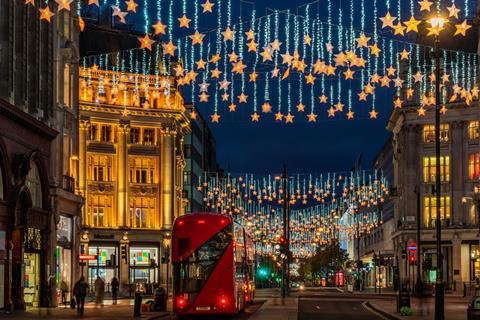 The impending exit of House of Fraser from London's Oxford Street made headlines last week. The department store will join an admittedly long list of some of retail's most famous names – such as Debenhams and Topshop – that no longer have a presence there.
But never mind the closures – the openings are more interesting. As venerable old names go, they are being replaced by a raft of new arrivals that should help revitalise the West End as it seeks to bounce back post-pandemic.
House of Fraser's eviction prompted anger at the Mike Ashley-owned business, but it sounds as if the redevelopment of the premises will be to the benefit of the wider district.
New arrivals will revitalise the golden mile
Even though the project will be office-led, 'inspiring places' specialist P-Three, which is working on the redevelopment, has flagged "the opportunity to create a truly flagship retail location" that will include one of the biggest rooftop restaurants in the capital.
The former Topshop that once drew fashionistas in their droves will become a retail destination again when Ikea opens there next year.
Ikea UK country manager Peter Jelkeby told Retail Week when the retailer snapped up the property for £378m: "We're bringing a different offer to Oxford Street and I think its a great location for us. It's a very busy street and we believe we can penetrate the market more."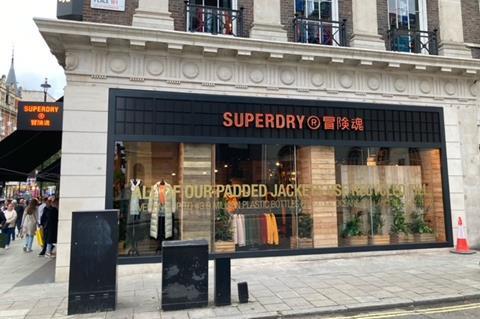 They will join other new arrivals such as Superdry, which opened the doors to a new global flagship earlier this month, when founder Julian Dunkerton said: "I'm a firm believer that physical stores will play a vital role in the future of retail and as a proud British brand, it's important we have the best possible presence for Superdry in London."
Meanwhile new power brand Gymshark, primarily an online player, is tipped to open its first permanent UK store on Regent Street, where Uniqlo will open in Superdry's former flagship.
The strong pipeline of openings shows that despite the devastation wreaked by Covid on the West End, retailers are confident that the capital's central district has an attractive future.
They are putting their money where their mouths are – in many cases probably a bit more economically than in the past, as rents are adjusted downwards to reflect the changed environment.
And more change is likely, too. Marks & Spencer's plans to redevelop its Marble Arch branch – again creating workspace but including a new full-line store – will be assessed by council planning chiefs this week.
You have to wonder, in the world of hybrid working, whether such a focus on offices will fully pay off, but the West End does appear to be on an upward course – and that's good for retail.
It will take a while, probably years, before the area is back on top form, however. The latest footfall figures show why. Last week, traffic soared 287% year-on-year and was up 11% compared to the previous seven days.
But on a two-year basis, footfall was still down a fifth on the levels recorded during the comparable pre-pandemic week. Until overseas visitors return en masse, shopper numbers will struggle to return to former levels, especially when a new wave of Covid on the continent is likely to keep international travel subdued.
The Queen's Platinum Jubilee celebrations next year will boost visits as, probably, will the much-delayed Crossrail which should, fingers crossed, at long last open in the first half of next year.
But in the meantime, and for a while afterward, Tuesday, Wednesday and Thursday working habits – and yet another threat of Tubes strikes in the run-up to Christmas – will continue to take a toll. But with the countdown to Christmas entering its final five weeks, the atmosphere in town is much improved and bars and restaurants once again bustle compared to the dark days of the last two years.
When the West End does bounce back, the overall amount of retail space will, inevitably, have shrunk. But the retailers still trading there are building back better.
Those who stay the course should ultimately be rewarded with strong spend and form part of a more enticing retail, leisure and cultural mix. No more Marble Arch mounds though, please.
George MacDonald is executive editor of Retail Week.