A landlord aims to revitalise London's Tottenham Court Road with a raft of upmarket openings this year ahead of Crossrail launching.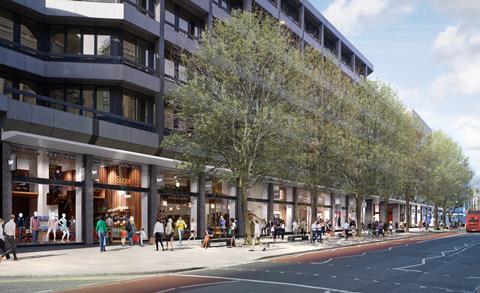 Retailers including Hotel Chocolat and Planet Organic set to open
Tottenham Court Walk will welcome 110 million visitors a year once Crossrail arrives in 2018
Landlord say it will "bridge the gap" with Oxford Street
Hotel Chocolat, grocer Planet Organic and Australian tea group T2 have all signed up to the Tottenham Court Walk scheme. Restaurants Leon and DF/Mexico, a new concept from the creators of Wahaca, have also secured lettings. All five are expected to open their doors before Christmas.
Landlord Derwent said the deals mark one of the biggest retail developments to the eastern end of Oxford Street since Primark opened there three years ago.
The area is being redeveloped ahead of the arrival of Crossrail in 2018, which will boost footfall to around 110 million visits per year.
Derwent aims to "improve the retail and leisure mix" in the region and "bridge the gap" with Oxford Street.
Part of that project has seen the area around Tottenham Court Road revamped to provide 38,000 sq ft of retail and leisure space across nine units.
Derwent said it will "restore Tottenham Court Road's status as one of central London's premier and best-connected destinations".
Other initiatives
Its chief executive John Burns said: "This is only just the beginning as the whole area will be supported by other initiatives from Camden, neighbouring landowners and Crossrail itself.
"Together we expect these improvements will see the area reclaim its title as 'London's crossroads'."
The news came weeks after the New West End Company said sales in the capital's retail heartland would hit £10bn a year just 12 months after the completion of the Crossrail scheme.
The area is poised to welcome "millions of additional shoppers", which would make London the number one European city for retail sales, the New West End Company said.
The group represents 600 businesses in 25 London streets including Oxford Street, Bond Street and Regent Street.