Topshop tycoon Sir Philip Green has engaged in a legal battle with regulators over the publication of a report into the collapse of BHS.
Taveta Investments, the parent company of Green's Arcadia fashion empire, has applied for a judicial review to make the Financial Reporting Council (FRC) amend a report into the auditing of BHS' accounts in the year before it was sold for £1, Sky News reports.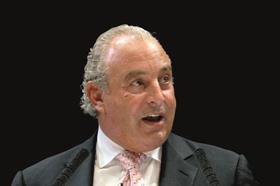 Earlier this week accountancy firm PwC was fined £6.5m, and audit partner Steve Denison was handed a ban and fine, for their part in signing off BHS's accounts in 2015.
It is understood the FRC had planned to publish its full enforcement report at the same time as announcing the sanctions but was unable to because of the legal challenge.
A High Court hearing is understood to have been scheduled for June 15 but was postponed after the FRC's lawyers asked for more time to prepare their case.
Taveta is also understood to have applied for an injunction to prevent the FRC from making public its detailed findings on Green's business.
The dispute will raise questions about what is contained in the regulator's final report on BHS and Taveta.