Footfall to retail destinations slumped in the week following Christmas despite an uptick in traffic on New Year's Eve.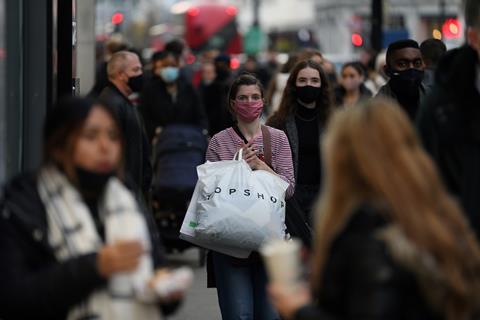 Shopper numbers in the final week of the year were down by a quarter compared with the same period in 2019, according to data from footfall specialists Springboard.
Footfall to high streets tumbled 28.6% compared to pre-pandemic levels, while traffic at shopping centres dropped at a similar rate of 28.4%.
Retail parks proved more resilient, but still suffered a decline of 11.6% compared to the same week in 2019.
The number of shoppers also fell 15% compared with the previous week, as shopping centres suffered the steepest week-on-week drop of 19.2%.
Footfall to high streets and retail parks in the post-Christmas week declined 11.8% and 17.5% respectively, compared with the previous seven days.
However, footfall increased 5.2% on New Year's Eve in comparison with Christmas Eve. It marked a reversal in fortunes from pre-pandemic years – shopper numbers on New Year's Eve 2019 dropped 9% on Christmas Eve levels.
Footfall in Central London jumped 54.8% on New Year's Eve compared with the same day in 2019, while outer London locations and market towns enjoyed 5% and 7.3% increases respectively.
Springboard insights director Diane Wehrle said: "Despite the well-documented cautiousness of shoppers in the run-up to and over Christmas this year, it appears that on New Year's Eve there was a shift in behaviour with footfall in high streets increasing from the week before.
"Not only was this the only day last week when high street footfall was higher than the week before, but it was also in sharp contrast with New Year's Eve 2019 when high street footfall was lower on New Year's Eve than on Christmas Eve."