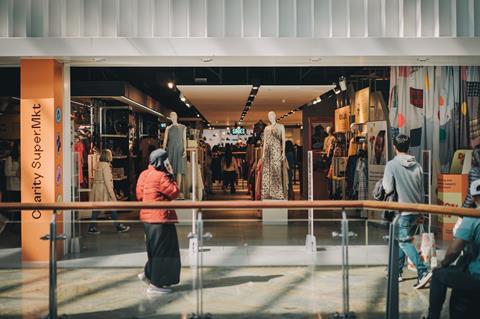 Charity Super.Mkt is described as a "concept for social and environmental good" allowing customers to shop "the best of charity retail all in one place".
Since its launch, Charity Super.Mkt has helped Cancer Research to pay for 96 days of cancer nurse care, as well as funding 1,000 webchat housing advice calls for housing charity Shelter.
Co-founder Wayne Hemingway told Retail Week the store is "popping up" for two days as part of the Manchester-based festival We Invented The Weekend at the beginning of June. He said an additional, longer run in Manchester will begin in the middle of September.
The announcement follows the store's pop-up run at the former Topshop premises in London's Brent Cross in January, which sold 40,000 items in six weeks and raised £374,454 for the 10 participating charities.
Charity Super.Mkt also reported that Brent Cross saw a 7% increase in footfall following the opening of the store.
The venture is currently open at the Oracle shopping centre in Reading until May 21.
Co-founder Maria Chenoweth said the move to Reading was a trial of the store concept outside of London and it had been steady and stable, marking "a new way of doing retail".
Hemingway added: "We've got a short pop-up and then a longer spell in Manchester. Our dream in the long term is to have a semi-permanent pop-up on Oxford Street or Regent Street, or the equivalent of that in other cities.
"We are there with a concept that everybody loves, that works for society, works for the retailers around it and increases footfall.
"We are seeing all of these empty units, which would be absolutely perfect, and we could go in there and reinvigorate that street. We know we can do it, we've proved it."