Canadian travel and lifestyle brand Monos is among several international retailers eyeing expansion into London, Retail Week can reveal.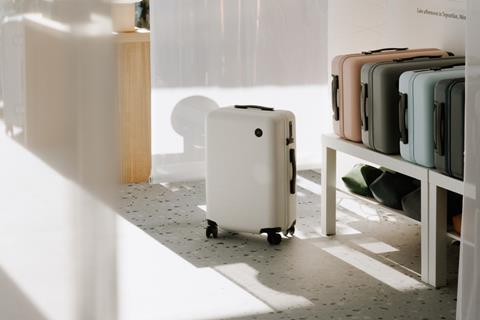 Monos is among the retailers arriving in the UK to explore expansion in the West End as part of the London & Partners retail, leisure and hospitality programme.
Monos, which was founded in 2018 by Victor Tam, Hubert Chan and Daniel Shin, sells premium luggage, bags and accessories across the US, Canada and the UK via its online store and a partnership with Nordstrom.
The brand is big on social media, boasting 383,000 Instagram followers, and recently announced a store expansion programme, opening its first permanent location in Vancouver later this year.
In January, Monos senior director for strategy Aqsa Mian told Canadian business news outlet Retail Insider that it was interested in expanding its physical presence internationally.
"If I had to put a number out, I'd estimate that we could see 10 to 15 stores in North America in the long term, depending on how we find the roll-out is going," she said.
"Really, we are more focused on being in the right locations and with the right partner more than anything else. I could see us being internationally spread out as well in key cities. We are all quite passionate about travel so it would be nice to have a little home away from home in major international cities."
Other retailers eyeing London's West End include French men's skincare and haircare brand Horace and Malaysian clothing retailer Kapten Batik.
The programme, run by the Mayor of London's business growth agency London & Partners, invites brands interested in establishing a flagship or store presence in the capital to explore the area and meet landlords, property owners and venture capitalists, beginning on Monday April 24.
London & Partners CEO Laura Citron said: "With over 200 retailers, The West End is home to some of the world's most exciting and well recognised brands."
"We want to continue to attract the best new concepts to London and programmes such as these are helping to bring fresh and exciting retail experiences to the city. Monos is one of them - a brand that has the consumer in mind, that's innovative yet sustainable. We're excited to welcome the best brands from around the world to explore investment and expansion opportunities in London."
Get the latest stores news and analysis straight to your inbox – sign up for our weekly newsletter