A ranking of retailers by store openings reveals that the symbol groups dominate, while the popularity of c-stores shows no sign of abating.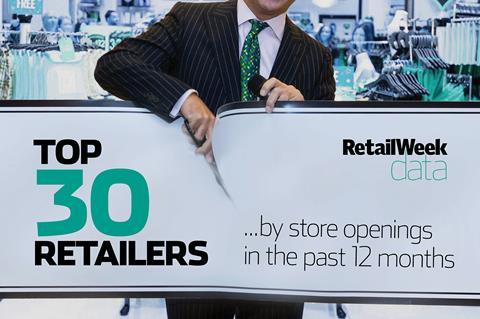 McColl's tops the table of net openings for the 12 months to the end of July, according to research from the Local Data Company. The symbols groups are being largely driven by signing up independents to their umbrella group, rather than organic store openings.
Excluding symbol groups, Sainsbury's and Screwfix are the retailers recording the most aggressive store openings.
Rank
Fascia
Net openings
Opened
units
Closed
units
Live
units
% growth
1
McColl's
129
138
9
825
18.5
2
Nisa Local
101
169
68
883
12.9
3
Premier Stores
89
493
404
3,074
3
4
Sainsbury's Local
79
82
3
710
12.5
5
Screwfix Direct
78
79
1
387
25.2
6
One Stop
76
85
9
819
10.2
7
Vets 4 Pets
74
74
0
180
69.8
8
Sofastore
48
51
3
51
1,600
9
Savers Health & Beauty
47
55
8
291
19.3
10
Vision Express
45
57
12
376
13.6
11
Vodafone
37
64
27
498
8
12
CeX
36
37
1
252
16.7
= 13
M Local
34
42
8
155
28.1
= 13
Toolstation
34
34
0
185
22.5
= 13
Poundland
34
52
18
506
7.2
16
Card Factory
33
48
15
734
4.7
= 17
Aldi
32
34
2
576
5.9
= 17
The Carphone Warehouse
32
67
35
773
4.3
19
Roman
31
40
9
118
35.6
20
Boots Opticians
29
44
15
510
6
21
B&M
28
34
6
252
12.5
22
Pandora
27
35
8
162
20
= 23
Budget
26
35
9
102
34.2
= 23
Store Twenty One
26
38
12
199
15
= 23
Poundworld
26
34
8
221
13.3
26
Premier Express
25
32
7
86
41
(Source: Local Data Company)