Annual retail revenues in London's West End are expected to hit the £10bn mark following the opening of Crossrail in 2018.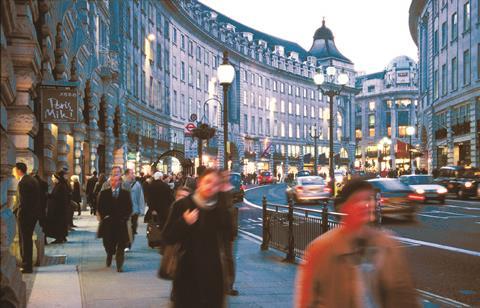 Crossrail to help London become top European city for retail sales
New retail developments planned to capitalise on Crossrail
New West End Company boss says they will bring "unparalleled lift" to the area
The New West End Company said the capital's retail heartland is gearing up for "millions of additional shoppers", who are predicted to spend £10bn a year just 12 months after the completion of the Crossrail scheme.
The figure would make London the number one European city for retail sales.
The forecast came as the New West End Company, which represents 600 businesses in 25 London streets including Oxford Street, Bond Street and Regent Street, revealed a series of developments to help "capitalise on the arrival of Crossrail".
Those plans include the redevelopment of Dukelease, transforming seven existing buildings into one scheme featuring 13 apartments and five retail units.
It is not yet known exactly how much retail space will be created by all of the new developments, but the New West End Company said the projects would have a combined gross development value of £2.5bn.
New West End Company chief executive Richard Dickinson said: "Crossrail has long been recognised as a game changer for the areas it touches, but the effect it has played in inspiring investment and innovation across the West End is staggering.
"Each one of these planned developments will bring an unparalleled uplift to the area. Together they will combine to ensure that our iconic streets continue to represent the pinnacle of shopping and leisure destinations into the future as they have through their illustrious past."
Jonathan De Mello, head of retail consultancy at property advisers Harper Dennis Hobbs, said: "London already has an enviable public transport network and Crossrail will boost this further, with an estimated 200 million passenger journeys annually.
"Not only will this significantly improve ease of access and travel times into the West End, but it will also ease congestion on key Tube lines into central London such as the Central and Piccadilly lines. This will make the West End an even more attractive place to shop."