Ten stores planned by mid-2016
"One-stop shops" will offer general merchandise, fashion and ambient food
Former Asda executive Koray Gul will be managing director
Poundstretcher finance boss poached to be finance director
Bond says "still a lot of upside" in discount retailing
Former Asda boss Andy Bond is launching a discount variety chain in the UK backed by Christo Wiese, Retail Week can reveal.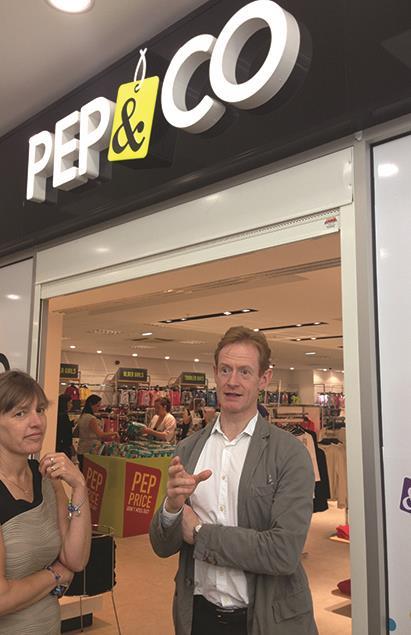 The launch will set the new chain in competition with the likes of B&M, Home Bargains, Poundland and Poundstretcher in the fiercely competitive discount variety sector.
The as-yet-unnamed chain, funded by Wiese's Pepkor vehicle, will sell general merchandise, ambient grocery and feature fashion from Pepkor's recently-launched Pep & Co fashion stores.
Bond, who oversaw the high-profile launch this year of Pep&Co, which now boasts 50 stores in the UK, said that two of the new discount variety stores are poised to open by March next year and there is a target of 10 by the middle of 2016.
The stores will be around 10,000 sq ft in secondary towns, but no leases have yet been signed it is understood.
Speaking exclusively to Retail Week today, Bond said the launch "leverages" Pepkor's expertise in the value sector.
He said: "There's no evidence that the discount theme is slowing down as a customer trend, in fact the opposite. There's still a lot of upside opportunity in discount retailing."
Last month South African Wiese told Retail Week the value trend is "here to stay".
Bond said that entering the value market with a "me-too" idea would be difficult so the new chain would offer a point-of-difference by being a "one-stop" shop for general merchandise, fashion and ambient food.
He said the launch of the chain, which will be run from an office in Leeds, did not mean that the plans for Pep & Co were being dialled down and said he is pleased with the progress of the fashion chain.
New retailer's top team
The new chain will be headed up former Asda executive Koray Gul as managing director. Gul co-founded international apparel supplier chain management company GAAT, which was acquired by Asda in April 2012 from Türkmen Group.
Former Holland & Barrett chief operating officer Simon Singleton, who has been working with Pep&Co, will be operations director. Singleton was also previously operations director of Woolworths, retail director at Focus DIY and operations director of George at Asda
Roy Ellis, Poundstretcher's finance boss, has also been recruited as the new chain's finance director.
Former Poundworld buying director Daniel Donnelly, who has most recently worked on an overseas VC-backed retail start-up in southern Europe, will be sourcing director.
It is not the first time that Wiese will have had an interest in the UK discount variety sector having previously controlled Poundstretcher. However, Wiese sold his stake to brothers Rashid and Aziz Tayub in 2009.