While John Lewis chose the moon as the setting for its Christmas ad this year, the retailer has its sights set closer to home for its next venture.
Department store John Lewis has revealed plans to open shop-in-shops in seven branches of Dutch department store de Bijenkorf. The first three concessions will open in spring 2016 at de Bijenkorf's flagship stores in Amsterdam, Rotterdam and The Hague, followed by openings in Eindhoven and Utrecht by the end of next year and in Amstelveen and Maastricht in 2017.
The move marks the first physical presence in Europe for the British high street bellwether after it started taking online orders from up to 25 European countries back in 2011.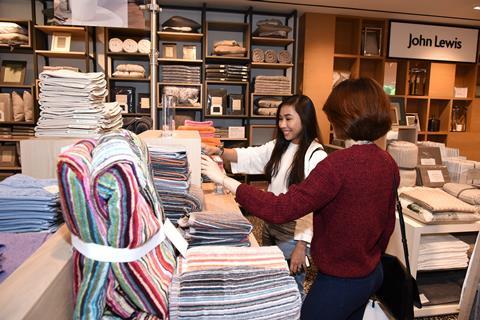 At the time of the launch, then John Lewis commercial director Andrea O'Donnell said the online strategy was "the most compelling" option, and added that bricks-and-mortar stores could follow depending on how successful the web-first approach was. "To make a more significant investment, we need to be confident that the demand is worth it," she maintained.
Based on this information, John Lewis has clearly decided the Netherlands is worth a shot, and will move into the territory with areas of between 300 sq ft and 500 sq ft, selling own-brand home and lifestyle products across bed, bath, living and gifting departments.
Testing the waters
Kantar Retail retail insights director Bryan Roberts believes the move into the Netherlands could be a success for John Lewis. "As well as the expat appetite, there's no reason why the Dutch won't appreciate what they have to offer."
Analysts have described the shop-in-shop strategy as signalling a larger strategy to extend its international footprint.
"Many don't know who John Lewis is so it's a good way of making a footprint on the Continent"

Maureen Hinton, Conlumino
Conlumino global research director Maureen Hinton says: "It's pretty significant. John Lewis is getting the brand name out there and raising awareness of it to shoppers across the Continent. Many don't know who John Lewis is so it's a good way of making a footprint on the Continent."
By opening shops in a premium department store, John Lewis has adopted a safe approach when it comes to testing the market and it builds on the retailer's existing international strategy. The department store opened seven shop-in-shops in South Korea in 2014 and 14 in Singapore and the Philippines in May and July 2015.
Roberts describes the move as "really interesting" at a time when some retailers are retrenching from international expansion.
"But John Lewis has gone for a low-cost, low-risk model. They're just dipping their toes in the water. It is significant – if it does work, it does open up the way for a whole new range of low-cost John Lewis shops in Europe," says Roberts.
Looking ahead
Analysts have said de Bijenkorf is a good match for John Lewis.
"De Bijenkorf is a good partner, they're of a similar positioning with similar price points," says Hinton. "John Lewis will fit in well there, it'll be beneficial to both."
"De Bijenkorf is a good partner, they're of a similar positioning John Lewis will fit in well there, it'll be beneficial to both"

Maureen Hinton, Conlumino
Interestingly, de Bijenkorf has been owned by the Weston family – owners of Selfridges – since 2011. "It does seem strange," admits Hinton, "but John Lewis doesn't really compete with Selfridges."
Hinton believes that other department stores in Europe could be jumping on the news and hoping to establish a similar relationship with John Lewis. "I'm sure a lot of property companies working with shopping centres across Europe would love to have a John Lewis anchor store."
Analysts also said the move into Europe could pave the way for standalone John Lewis stores across the Continent.
"You can't rule it out," says Roberts. "They're aware that there's only so much expansion in the UK, so they're thinking of trying overseas expansion."
Hinton says this would be a "precursor" to launching standalone stores. "It's a good way of assessing demand," she adds.
Although John Lewis managing director Andy Street didn't spell out what exactly the retailer's overseas intentions were, he said in today's announcement: "Whilst we remain committed to our UK physical expansion we hope to announce more international collaborations in 2016."
Watch this space.