Sports Direct boss Mike Ashley has invited MPs back to the retailer's warehouse in Shirebrook to take part in a "live televised" debate.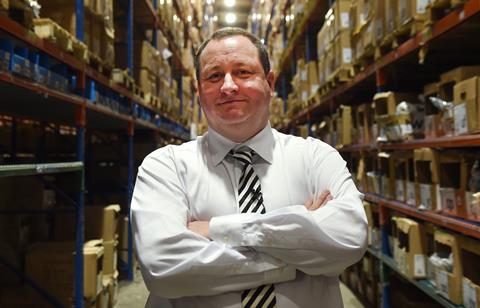 The billionaire has written to Iain Wright, chairman of the Business, Energy and Industrial Strategy Committee, urging him and other MPs to return to the under-fire retailer's HQ.
It comes after their last visit to the Shirebrook site ended in farce when Sports Direct was accused of attempting to spy on MPs by hiding a recording device in a meeting room following a tour of the building.
In a stinging letter, Ashley has accused Wright of putting out "disingenuous" and "misleading" statements following his initial visit to Shirebrook on November 7.
Ashley claimed that Wright knew he would not be at Shirebrook on the day that six members of the Business Select Committee arrived after giving one hour's notice.
The MPs then claimed that a worker who carried sandwiches into a meeting room attempted to bug their conversations by hiding a recording device underneath a stool.
Sports Direct denied the allegations.
'Deeply traumatised'
Ashley's letter, seen by The Sun, states: "I believe the best way forward would be for you to return to Shirebrook to join 500 of the people who work at Sports Direct for a live televised debate in our auditorium."
The tycoon adds: "As you will have seen during your visit, our people are extremely loyal and they believe passionately in Sports Direct.
"Some of these people are feeling scared, defensive and deeply traumatised by the criticism and abuse we have been subjected to over the past two years."
Having outlined his plans for a televised debate, Ashley then goes on the attack, accusing Wright of deliberately turning up to the Derbyshire site on a day when he knew Ashley would not be present.
Ashley says of Wright: "You knew full well I would be away from Shirebrook on 7 November.
"I therefore consider many of the comments in your letter to be disingenuous.
"I refer to your statement that 'I would have liked you to have been there on site to show us around personally…'.
"This is misleading and it echoes an inaccurate impression that you created in the media by saying, 'I would have liked Mike Ashley to have been here."
Ashley concludes: "The truth is that you chose to go ahead regardless of the fact that you knew I was away."
Under fire
Ashley, who took over as chief executive of the beleaguered business in September following the resignation of Dave Forsey, has been locked in a war of words with Wright since the summer, when he appeared before a parliamentary committee to give evidence about working conditions at Shirebrook.
The Newcastle United owner was accused of running the warehouse like "a Victorian workhouse" and admitted that he had effectively paid staff below the minimum wage.
As controversy swirls around Sports Direct, its financial performance has also declined.
Last month the retailer was forced to issue another profit warning – its third this year – claiming that "extreme" currency movements would dent underlying full-year profits by about £15m.
Read a full copy of Mike Ashley's letter by clicking on the link below