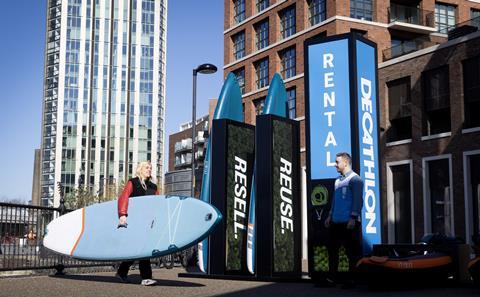 Decathlon customers will now be able to rent products ranging from bikes and kayaks to stand-up paddle boards and tennis rackets as a part of the new scheme.
The retailer said the scheme makes it the first major sports retailer to offer sports rentals across all UK stores.
Paddleboards and kayaks are available for hire for £30 a day and tennis rackets for £10 and a half price on day two. Decathlon had earlier trialled the rental scheme in a select number of stores in August last year, across London, Southampton, Poole and Glasgow.
The retailer said it "aims to make the joy of sports more accessible to people by allowing them to pick up something new at a fraction of the retail price." Decathlon has committed products worth over £1m to the scheme in 2023.
The rental scheme is an extension of the retailer's Second Life programme that offers repairs and maintenance on a range of products, refurbishment and resale of goods and product recycling.
Chris Allen, sustainability leader at Decathlon UK, said: "Despite having the appetite to try sports, committing to the cost of buying gear is one of the biggest barriers to people taking up something new.
"Rentals gives customers across the UK the opportunity to overcome this challenge by discovering the joy of different activities at an affordable price and in a sustainable way. We are proud to be the first business to offer nationwide rentals and this is a positive step forward for sustainable sports retail."