A whopping 25% of New Look's click-and-collect customers make additional purchases in-store, a dramatic outperformance of the clothing market.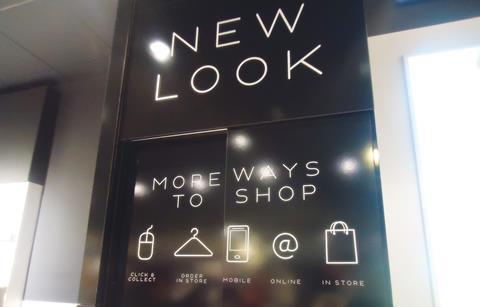 When New Look revealed its full-year results in June, one particular figure stood out – the fact that of the 28% of online customers who collect in-store, an impressive 19% of those go on to make other purchases.
If that number filled other retailers with a dose of green with envy, then now may be the time to look away – the figure has grown to 25% in the past three months.
With this figure well above the clothing sector average of 9.4%, estimated by Verdict, how exactly is New Look making its customers hungry for more product when they pick up their online orders in-store?
Emphasis on efficiency
"Our stores are easy to shop, and we've got a great product range with affordable prices," says New Look chief executive Anders Kristiansen when the question is put to him. "Customers can get shoes for £15 or pick up jeans for £15 to £20. It doesn't cost a lot to add more to the basket."
According to Kristiansen there is no grand scheme behind the envy-inducing add-on rate. Rather, the focus for the retailer is on making the click-and-collect process as smooth as possible for the customer.
Kristiansen says the ambition is not to make customers walk past as much product as possible in order to fill their baskets on the way to collecting their order. "We don't try and make customers walk the entire store. All we have in mind is making it efficient for the customer to pick up their order."
Impulse buys
Honor Westnedge, lead analyst at Verdict, believes that the cheap price tags together with the fast-fashion nature of the business puts New Look at an advantage.
"New Look's customer will go in and see fast fashion-led pieces and will make an impulse buy. When they collect, customers will be tempted to buy product that they might think to wear that night."
"New Look's customer will go in and see fast fashion-led pieces and will make an impulse buy"

Honor Westnedge, Verdict
She adds: "The way they stock accessories on the way up to the till, especially in smaller format stores, and the fact that their footwear is at a lower price point will help drive sales."
She says that a clothing retailer with higher price tags would find it more difficult to encourage customers to make an additional purchase.
Looking ahead
New Look's figures are based on surveys from its online customers, and do not currently reveal what items customers are picking up. But Kristiansen is planning to amend the surveys so he can find out this critical piece of information.
But despite not yet knowing what click and collect shoppers are adding to their basket in store, New Look knows it's onto a winner with these incremental sales and it's working to enhance its click-and-collect service.
"Something we're working on is making it easier for customers to pick up their click-and-collect orders," says Kristiansen. "We want to grow the number of people coming into store and as we grow our business we will make it super efficient.
"We want to grow the number of people coming into store and as we grow our business we will make it super efficient"

Anders Kristiansen, New Look
"It could be by opening more dedicated click-and-collect areas so people don't have to queue."
Would New Look try and encourage its staff to upsell its products? Kristiansen says he lets the product do the talking through mannequins and displays which show off its trend-led offer, but he does offer a glimpse of how the retailer could personalise its click-and-collect service.
"Today when customers pick up their parcel we [the counter staff] don't know what's in it. But in the future we could ask the system to link to products…so for customers that bought a dress, the shop assistant could suggest 'these go well' with a specific pair of shoes'."
Another strand that could help drive click-and-collect sales and lead to an uplift in additional revenue is next day click-and-collect.
New Look chief financial officer Mike Iddon says: "One thing we know that could help that…is click-and-collect next day. We are testing it at the moment and looking to roll it out. I think it will drive further orders and get more people [spending in-store]."
With more measures in place to build its click-and-collect offer, New Look is doing all the right things to stay ahead in the fulfilment battle.