Former Tesco exec acknowledges industry disappointment on business rates but claims changes are important
Neville-Rolfe admits that Sunday trading shake-up plans are dead
Minister says she does not underestimate challenge of the Living Wage to sector
Government minister Lucy Neville-Rolfe has argued the move on business rates is an "important change" but acknowledged industry disappointment.
In yesterday's Budget George Osborne announced that the annual increase on rates will be based on the consumer price index, instead of the higher retail price index.
However, the change will not come until 2020.
Speaking at Retail Week Live today, Rolfe, a former Tesco executive, acknowledged the delay. "I know it's 2020, but dates do arrive and I think it's an important change," she said.
Rolfe, a minister at the Department for Business, Innovation and Skills, later admitted: "I know you're not entirely happy with it, but small steps lead to great change."
On plans to increase the frequency of revaluations to three years, Rolfe said: "I hope it will help."
She added: "We are listening, but there's only so much money to go around."
Rolfe was grilled on stage at Retail Week Live on an array of burning industry topics by Jacqueline Gold, Ann Summers founder.
On Sunday trading, Rolfe, who spent 15 years at Tesco, suggested the government had given up on its plans. "Parliament has spoken. We think we need to move on and look at other things," she said.
But she admitted the rejection of plans to allow large shops to open beyond six hours on a Sunday was "disappointing". She added: "It was about attracting more people to high streets."
On the living wage, which takes effect next month, Rolfe admitted that she had "never had so many moans from so many sectors". She added: "I don't underestimate the challenge the living wage brings to the sector."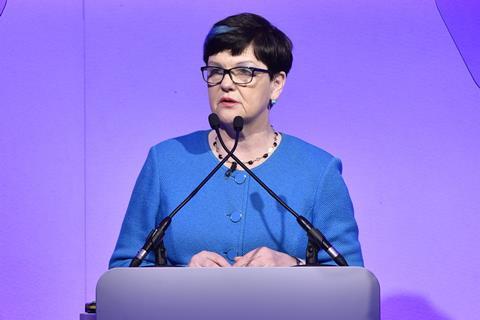 Gold also asked whether retail had an image problem, but Rolfe rejected the idea.
"No, I don't think that's right. It's highly competitive which can lead to strains and stresses and disagreements," Rolfe said.
Rolfe also gave her backing to Retail Week's Be Inspired campaign to help drive the number of women in senior positions in retail. "I couldn't be more delighted [about the campaign]," she said.
Keep up-to-date with the latest from Retail Week Live
Don't forget you can follow all the latest news and analysis from Retail Week Live here.