PAID FOR POST
More voices from the retail industry
Shell UK Retail general manager Bernadette Williamson discusses the opportunities for forecourt retailers as UK shopping behaviour shifts.
Research tells us that consumers are swapping the weekly big shop for top-up shops throughout the week.
Drivers who are out and about during the day, or travelling home from work, no longer rely on forecourts just to fill up their tanks; they also want to pick up a healthy lunchtime snack, a coffee and buy tonight's dinner.
Consequently, forecourt retailers are emerging as significant players in retail. At Shell, we welcome 5 million UK customers through our doors each week and of those one in every three doesn't buy any fuel at all.
"UK drivers want a quick and easy experience, with almost a third increasingly shopping at forecourts because it is faster than going to a big supermarket"
This increase in non-fuel purchases at forecourts is one of the emerging customer trends that was reflected in recent research Shell conducted in partnership with Ipsos MORI.
It found that nearly half of UK drivers who shop at forecourts more often than they did two years ago use convenience stores, independent grocers or forecourts for their shopping at least once a week, with one in five visiting forecourts at least once a month for food and groceries.
The research findings pointed to three main trends that offer real opportunity for forecourt retailers:
Convenience
Consumers are time poor and shopping for food has to be fitted in around their busy lifestyles. That is why forecourts are uniquely placed to cater to their needs.
Almost half of UK drivers say that they choose to shop at forecourts because they can refuel at the same time and more than a quarter do so because the opening hours suit their schedule.
Location
A store's location is vital, with about one in three UK drivers increasingly shopping at forecourts because it is typically on their route and almost a quarter because of its convenient location.
That is why Shell has a UK-wide network of more than 1,000 service stations – in fact, 75% of people in the UK live within 15 minutes of one.
Customer experience
UK drivers want a quick and easy experience, with almost a third increasingly shopping at forecourts because it is faster than going to a big supermarket.
Our Fill Up & Go mobile service enables motorists in a hurry to refuel without the need to go inside to pay. In turn, this reduces queuing time at the till, making the in-store experience quicker for those who want to buy something from the shop.
It's up to forecourt retailers to continually develop new ways to meet customers' needs – both today and in the future – and Shell wants its positive customer experience to extend well beyond the pump.
To do this, we are listening to our customers and continually assessing and developing our product range.
Success will come from offering our customers greater convenience by fitting in with their hectic lifestyles, giving them more product choice and providing better, smoother shopping experiences.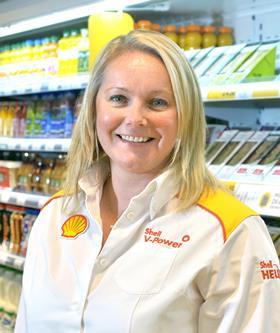 Bernadette Williamson is general manager at Shell UK Retail

We aim to meet the energy needs of society in ways that are economically, socially and environmentally viable, now and in the future.