PAID FOR POST
More voices from the retail industry
Supply-chain sustainability is a key requirement for retailers, says Eddie Capel, chief executive of Manhattan Associates
With supply chains underpinning the very foundations of trade, the past two decades have understandably seen an increased impetus on supply chain gains such as speed and efficiency to maximise (often) squeezed margins.
These types of operational efficiencies are clearly important to global markets but there are now increasing questions around the challenges presented by increasingly complicated supply chains; not least the impact that both globalisation and the fulfilment of global commerce presents to our environment.
With climate action a firm focus for businesses and organisations around the globe, the time is right that we start discussing and delivering supply chain sustainability more actively.
Empowering greener buying decisions
Most brands that offer direct-to-consumer selling channels do not have the ability to allow the consumer to change an order beyond maybe a 30- to 60-minute 'remorse' period.
Thanks to advanced capabilities available with Manhattan Active® Omni, there is a smarter way to manage D2C operations, allowing consumers to have more influence over their retail supply chain decisions.
This approach can help eliminate excessive delivery miles, along with the dunnage and packaging associated with multiple smaller orders – reducing the carbon footprint associated with returns processes, too.
Our goal is to allow our customers to give consumers the ability and options to influence the fulfilment process, in the hope that they will ultimately make more informed and greener choices in the long term.
Wasted space – bad for the planet
Smarter pallet fill algorithms, such as those that are part of the latest release of Manhattan Active Inventory, can provide as much as a 7% increase in truck fill ratios.
While the relative delta might seem small at first glance, when you have a fleet of thousands of trucks, travelling millions of miles each year, marginal gains can add up to significant reductions in an organisation's overall carbon footprint.
If by having more efficient fleet-loading capabilities we can reduce the need for just one truck per month, we could reduce overall CO2 output by almost 40 metric tonnes each year. That is a significant reduction in CO2, one of the most harmful greenhouse gases to the planet.
Choosing the right partners
While the cloud can certainly streamline organisations from both a practical and operational perspective, it is important to recognise that any IT deployment will carry an associated environmental cost.
The commitment to ongoing innovation from Manhattan and Google Cloud, plus the latter's net carbon neutral platform, means the working partnership is a perfect match of brand and environmental values.
Together towards a more sustainable future
At Manhattan Associates, we believe the path to a cleaner, more sustainable future for the planet begins with the small decisions we all make each and every day.
That is why we are committed to building sustainability into the supply chain solutions we deliver to thousands of household brands all over the globe and incorporating more environmentally aware, sustainable approaches into our organisation, too.
We must not lose sight of the fact that global commerce is vitally important to the livelihoods and wellbeing of billions of people around the globe, and although the movement of goods can never be entirely green, we must acknowledge this does not mean it cannot be more sustainable for the planet than it has been in the past.
As an industry leader in a space that underpins the flow of global goods, we have a duty to recognise the challenges presented by climate change and to play our part in a coordinated effort towards a more sustainable and environmentally aware future.
Eddie Capel is chief executive of Manhattan Associates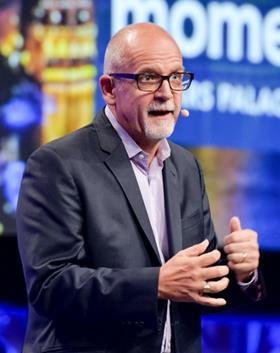 Committed to innovation and pushing the boundaries of technology for a more profitable and sustainable tomorrow, Eddie Capel leads a world-class team of market disruptors and change-makers all driven by a shared commitment to succeed in the increasingly complex world of supply chain and commerce.
With more than two decades of experience at Manhattan Associates, Eddie leads a team of 3,500+ people from all corners of the globe, providing household names such as Nike, Lacoste and Tommy Hilfiger, with the technology to thrive in the era of connected commerce.

Manhattan Associates is a technology leader in supply chain and omnichannel commerce. We unite information across the enterprise, converging front-end sales with back-end supply chain execution. Our software, platform technology and unmatched experience help drive both top-line growth and bottom-line profitability for our customers. Manhattan Associates designs, builds and delivers leading-edge cloud and on-premises solutions so that across the store, through your network or from your fulfilment centre, you are ready to reap the rewards of the omnichannel marketplace. For more information, please visit www.manh.co.uk.