Poundland's homewares display features poo, Kiefer Sutherland stops off at Cabot Circus, and Benefit brings 'wow brows' to Glastonbury.
Poundland pampering takes a pummelling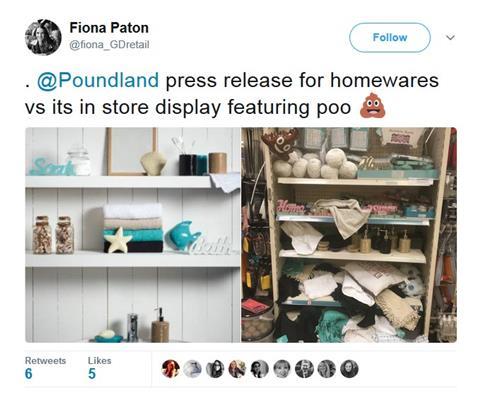 Value retailer Poundland took a pounding from Global Data analyst Fiona Paton who pointed out the chasm between press shots of its homewares range and in-store presentation.
While seaside colours and neatly folded towels are displayed online, its Hammersmith branch presented a rather more humble display of crumpled bath mats, mismatched cushions and, perhaps most unexpectedly, a helium balloon of the poo emoji.
While other retailers would be dismayed by this exposé, perhaps Poundland is living by the adage of 'all publicity is good publicity' in the wake of its one-hour documentary on ITV.
Cabot Circus' 24-carat gold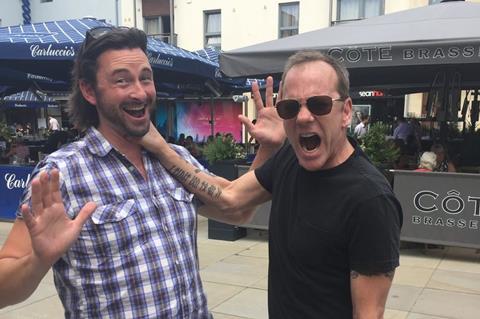 Hollywood star Kiefer Sutherland added some glitz and glamour to Cabot Circus shopping centre this week during an unexpected visit to the Bristol mall.
The star of blockbuster movies Zoolander 2 and Phone Booth was snapped posing and joking with fans as he stopped off for refreshments en route to Glastonbury festival.
Let's hope he gave himself at least 24 hours to get there!
Benefit brings 'wow brows' to Glastonbury
Just when you thought the world of beauty couldn't be any more innovative, make-up brand Benefit swept in with a bright idea.
Benefit has launched the UK's first brows and beauty drive-thru, dubbed GlastonBrow, for those who like to go to festivals looking glam.
The glistening pink beauty destination gave Glastonbury-goers free Benefit goodies and festival essentials – delivered by a 'Benebabe' – as well as offering last-minute eyebrow waxing and beauty services.
Located on the main road to Glastonbury, the drive-thru also entertained festival fanatics with DJ sets while they waited in the infamous traffic jams outside.
A few hours later, when guests are smothered head to toe in mud, at least they'll have stand-out 'wow brows'.