With a 27% rise in women executives since 2019, increased gender diversity is one of the trends that characterises this year's ranking of the most influential people in retail. Megan Dunsby reflects on what this means and why it is time for retail to become truly diverse
RWRC has this week published its annual Retail 100 – produced in association with Braze, ChannelAdvisor and Salesforce – celebrating the top leaders transforming retail, speaking out, innovating, making headlines and driving growth.
We are pleased to say there are now more influential women recognised than ever before in the Retail 100's history, with 23 women leaders celebrated – up from 18 in 2019.
In ninth, Boohoo co-founder Carol Kane is the highest-ranking woman following a year in which the etailer has taken a larger share of the fashion market, fuelled by acquisitions, international expansion and increased brand awareness, resulting in a 54% jump in pre-tax profit in its last financial year to £92.2m.
Increased gender diversity in the Retail 100 reflects the wider shift that has been taking place in retail boardrooms across the world.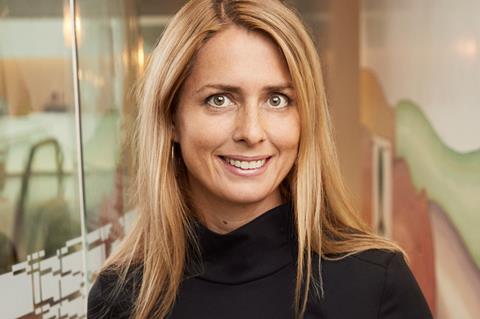 The appointments of Dame Sharon White as chair of the John Lewis Partnership (17th), Rachel Osborne as Ted Baker chief executive (98th), Clare Clough as managing director of Pret A Manger (45th) and Sainsbury's promotion of Clodagh Moriarty to retail and digital director (81st) highlights a positive step-change in representation at the top.
In fashion, women are becoming a more powerful voice too. For instance, Helena Helmersson (28th) confirmed her status as one of the most influential players when she was promoted to chief executive at H&M in January – becoming the first woman to lead the fashion house.
New entries also show how women are disrupting the retail landscape. Emily Weiss, founder and CEO of cult beauty brand Glossier, has made her inaugural appearance at 77th alongside The Body Shop UK MD Linda Campbell (86th), Notonthehighstreet.com's CEO Claire Davenport (97th), and Boots chief operating officer Tracey Clements (53th).
However, while we are delighted to shout about the increased gender diversity in the Retail 100, it would be naive to think that 23 women in a list of 100 leaders is good enough.
BAME matters
An even more pressing issue the list raises is the lack of ethnic diversity and BAME representation in retail.
At a time when the Black Lives Matter movement is dominating headlines, with brands urged to take a stand for equality and empowerment, it is disappointing that only 10 leaders in the Retail 100 are people of colour and only one is black.
However, these numbers hold a mirror up to the industry. In the UK, only one CEO of a FTSE 100 company is black while there are only four black chief executives in the global Fortune 500.
When last year's Retail 100 was published, we asked retailers to take a look at their business and ask: when it comes to promoting gender diversity in my business, am I doing enough?
This year, we urge all businesses to stop thinking of diversity and inclusion as simply a gender issue.
Instead, retailers need to ask themselves this question: when it comes to promoting all types of diversity in my business – including BAME, gender, LGBTQ+, disability and social mobility – am I doing enough?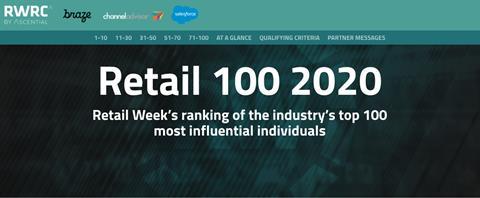 100 retail leaders, 23 new entries, 23 women… this is the Retail 100 2020
View RWRC's ranking of the top 100 most influential individuals in the industry here, produced in association with Braze, ChannelAdvisor and Salesforce.