The property sector is the latest focus of Retail Week's 'The disruptors' series, as we highlight the businesses creating waves across the industry.
In a multichannel world, retailers continue to re-evaluate the size and role of their store portfolios alongside the modern consumer.
The likes of New Look have launched CVAs as they bid to streamline their bricks-and-mortar presence to better fit today's shopping habits, while others, such as John Lewis, are reimagining their stores to create more experiential places that people enjoy visiting.
Against that backdrop, a tranche of new companies are emerging to capitalise on the various demands being placed on high street, out-of-town and warehouse locations by retailers, consumers and landlords.
Retail Week takes a look takes a look at some of the businesses shaking up the property sector.
Appear Here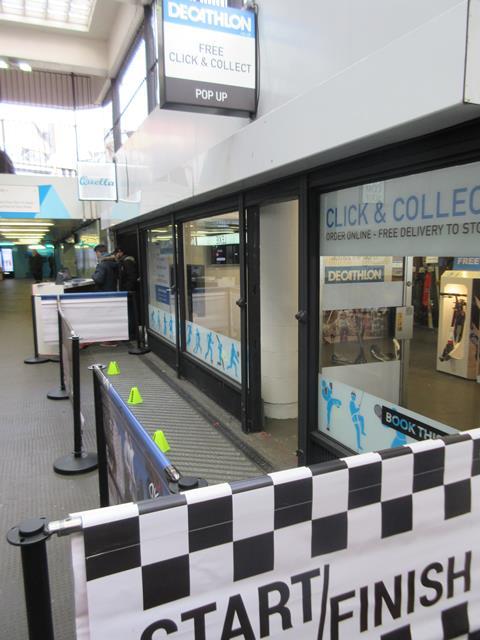 Formed in 2013, Appear Here is often described as "Airbnb for shops".
The business is the brainchild of Ross Bailey who, after running a pop-up shop to celebrate the Queen's Diamond Jubilee, was taken aback by the number of punters who asked him how he managed to secure the retail space.
He took that thought – and his profits from the temporary store – to set up Appear Here.
Five years on, the business now lists more than 5,000 short-term spaces across the globe free of charge, on an online platform used by more than 125,000 brands.
Big-name retailers and landlords are also using Appear Here to help them rejuvenate the spaces they operate, by attracting brands that might otherwise not be able to afford a permanent physical presence.
Transport for London joined forces with the business in 2014 to breathe new life into its retail offer at a number of underground stations.
As a result, Old Street has become a destination dedicated to pop-up retail, regularly churning its tenant mix to attract footfall –and not just from commuters.
In the past five years, more than 500 brands have taken up temporary space in the station, including Adidas, Calvin Klein, Decathlon, Jamie Oliver and Netflix.
Topshop partnered with Appear Here in 2015 to list concession space at its flagship Oxford Street store, while shopping centre landlord Hammerson teamed up with the firm last year to launch Up Market – an initiative that gives small, independent food, fashion and lifestyle brands access to prime retail units.
As the likes of Toys R Us, Maplin and New Look leave holes on the high street, Appear Here is helping to fill empty space with vibrant new businesses that appeal to the modern consumer.
Big Box Co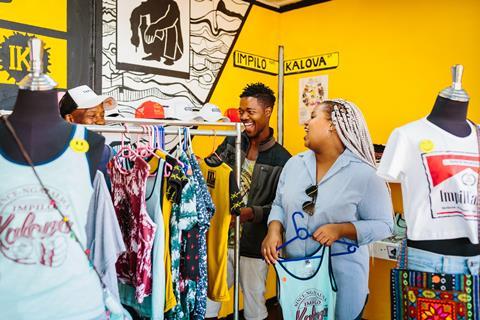 South African-based retail property developer Big Box Co creates shopping schemes with a difference – and is hunting for its first sites in the UK.
The business, created in Durban by its chief executive Murray Clark, focuses on social innovation, regeneration and a hyper-local retail-leisure mix within its projects, which feature modular, small-format stores run by entrepreneurs.
Big Box Co provides the businesses with funding, education and mentoring through its not-for-profit Lightbox Project to help them build their companies.
The firm built its first site in KwaMashu, near Durban, two years ago, using upcycled shipping containers.
The centre now hosts 28 businesses run by local people, including hair salons, fashion boutiques and cafes.
Big Box Co has instructed Savills to target sites of up to 100,000 sq ft in major British cities as part of its strategy to roll out the model to the world's 50 most innovative cities by 2025.
The UK, the US and Asia top its initial hit list.
Clark says: "We want to create a global ecosystem that helps entrepreneurs build sustainable businesses and, in doing so, generate social impact in their local communities.
"Each Big Box site is unique to the area it serves, but what they have in common is a creative spirit that fosters interaction between our 'Boxpreneurs' and the people who choose to shop and spend leisure time there."
WeWork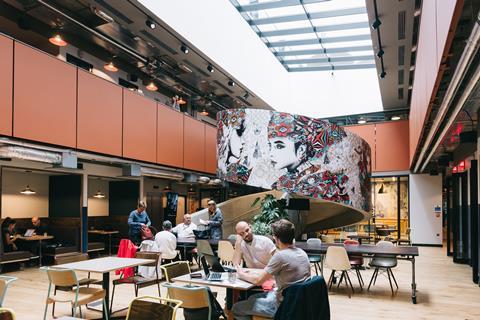 Despite only being founded in 2010, US company WeWork has grown rapidly after tapping into the demand for shared workspace from entrepreneurs and small businesses.
It now manages some 10 million sq ft of office space across 230 locations in 21 countries – including the UK, France, Germany, Spain, Japan, Canada and its native US – and has a value of around $20bn.
Even though WeWork recently became central London's biggest office occupier, it has plenty of headroom for further growth in the UK – and the availability of retail space is providing added scope for expansion.
As retailers either pull out of stores or look to make better use of excess space, WeWork has emerged as an alternative candidate to fill holes on the high street and help reinvent what had traditionally been seen as shopping thoroughfares.
Last July, it emerged that John Lewis was mulling the introduction of co-working or serviced office areas into its larger stores, while department store rival Debenhams is thought to be in talks with WeWork specifically about a similar move.
As casual dining outlets, coffee shops and gyms continue to take up more space on UK high streets, WeWork is well-placed to drive further transformation and bring new uses to tired spaces.
Stowga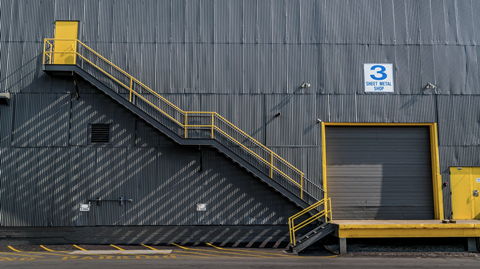 Built on a similar model to Appear Here, Stowga is a B2B online marketplace for warehousing, allowing retailers to rent space in depots without being tied to long-term leases.
For warehouse owners, the app lets them use excess space by renting it out on short-term, flexible contracts, while retailers can switch long-term fixed rents on their P&Ls into shorter-term, "pay as you go" costs.
With its database of more than 4,000 warehouses across the UK, Stowga gives retailers the ability to take space where they need it, when they need it, meaning they can scale their warehouse space up during peak seasons.
The firm's founder and boss Charlie Pool says the model is helping businesses "transform their supply chains".
He explains: "We started it for this short-term, Airbnb-style sharing-economy model, but people aren't coming to us for the short-term aspect.
"They are coming to us because it gives them the flexibility and they are not tied in for the long term.
"What's on everyone's mind right now is the uncertainty of Brexit. Our model allows them to have some flexibility in an uncertain world – you wouldn't want to commit to a long-term lease today if you don't know how your business is going to look in a couple of years' time."
To that end, Pool suggests Stowga is "in the right place at the right time" to gain traction, not just with smaller, high-growth etailers, but among more established retailers craving flexibility.
Supermarket giant Asda and soft drink brand Vimto are among the bigger businesses already using the marketplace.
Don't be surprised to see more follow suit.
eLocations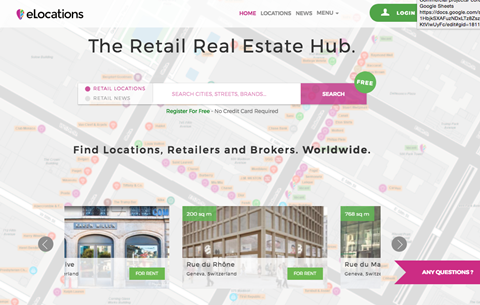 Billing itself as "the retail property decision maker", eLocations is designed to help retailers find the right sites in prime locations across the globe.
The "world's first global retail property meta-platform" collates listings from brokers around the world to provide users with details of available retail space in cities such as London, New York, Paris and Milan.
Retailers are able to view maps of key streets, allowing them to see who their immediate competition would be in a specific location, without having to travel the globe to do so.
eLocations also offers information on footfall and demographics of particular areas, as well as details on former tenants of different units.
Its expansive database already includes almost 80,000 stores across 14,500 streets in 2,839 cities, but co-founder and chief executive Marc-Christian Riebe says there is "so much potential for the future" of the fledgling business.
Riebe uses the example of Starbucks to illustrate how retailers can use the platform to their benefit.
He tells Retail Week: "They can monitor things from Seattle so they don't have to ask country managers to report on things like lease expiries approaching or flag that they need to renew it or find a successor [to take the store on].
"But they can also see if they are paying too much rent, because they can compare it to other stores in the area and see the true market value of the lease."
At a time when retailers are increasingly looking to trim property costs, eLocations could emerge as a valuable tool.
The disruptors: The shake-up in retail delivery
1

2

Currently reading

The disruptors: Retail property reinvented

3

4

5

6