Former Merrill Lynch banker Jeff Blue is suing Ashley for £14m
Blue claims Ashley failed to pay him a bonus upon the retailer's share price rising above 800p
Blue alleges Merrill Lynch resigned as corporate broker due to concerns over its share price
Sports Direct's founder Mike Ashley is being sued by a former Merrill Lynch banker, who claims the bank quit as corporate broker over share deal concerns.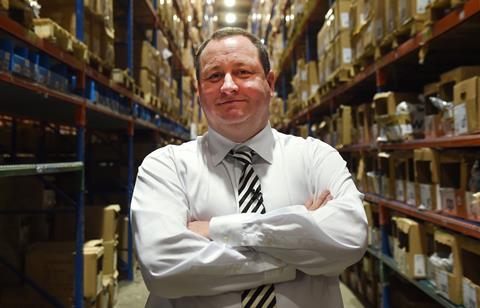 Ashley is being sued by Jeff Blue over an alleged breach of agreement that the latter would be paid a £15m bonus if the retailer's share price rose above 800p.
According to The Guardian, Blue has filed high court documents that also allege Merrill Lynch resigned as Sports Direct's corporate broker in 2012 due to concerns that the retailer had manipulated its share price.
In a legal filing, Blue said: "In autumn 2012, Merrill Lynch withdrew from acting as Sports Direct's corporate broker.
"Merrill Lynch did so as a result of concerns that it had regarding Sports Direct's corporate governance, including the propriety of Sport Direct's decision in August 2012 to fund the Sports Direct Employee Benefit Trust to buy-back shares for the benefit of Sports Direct's employee share scheme, without complying with the Buy-back and Stabilisation Regulation as would ordinarily be required by a buy-back of shares by Sports Direct itself."
Blue, who quit Sports Direct last year, is suing Ashley for £14m.
The retailer, whose founder conceded that warehouse staff had effectively been paid below minimum wage and faced subsequent accusations of spying on MPs, is set to publish its interim results on Thursday.