Retail Week's annual celebration of the industry's most inspiring individuals driving people, purpose and profit will return on June 16.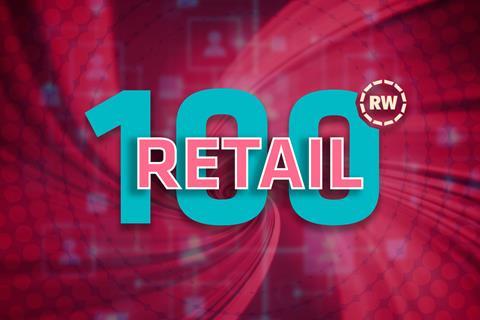 Unlike previous years, the Retail 100 2022 will be a showcase rather than a ranking, with disruptive brands, sustainability activists and people champions recognised alongside a more diverse mix of c-suite leaders.
Today's retail chiefs are required to place greater emphasis on people and purpose in order to drive profits. This takes a different kind of leader – one who is more collaborative and less hierarchical.
Three years ago, Retail Week rebranded the Retail 100 from what was then known as The Power List to remove outdated thinking about power players. This year, we are moving things on again.
The Retail 100 will have a new look. Gone are the traditional 1-100 rankings – often synonymous with power and hierarchy – and in their place is a celebration of retail leaders transforming the sector in six important ways: culture; purpose; innovation; collaboration; strategy; and customer experience.
The Retail 100 will also no longer celebrate only chief executives but the wider c-suite, including chief people officers, chief digital officers and chief operations officers.
Publishing on June 16, and decided by Retail Week's team of esteemed journalists, the Retail 100 will celebrate the human face of retail leadership across the following categories:
The Sustainability Activists – those actively progressing ESG agendas and going above and beyond, not merely paying lip service to sustainability
The People Champions – retail executives that are voices for the industry, those individuals actively campaigning for retail staff, promoting inclusivity and driving culture and purpose
The Dealmakers – whether it is acquisitions, partnerships or third-party tie-ups, these are the retail leaders collaborating for success
The Strategists – the retail bosses driving significant change in a variety of different ways, from adopting new channels and technologies to new ways of thinking
The Disruptors – the people disrupting traditional retail models and shaking up industries, keeping the sector on its toes
The Experience Innovators – those driving innovation in the experience economy and reigniting the thrill of shopping
Retail Week editor Luke Tugby said: "The Retail 100 2022 will reflect modern, flexible leadership and a move away from centralised power and hierarchies.
"By removing rankings, we wanted this year's edition to give a platform for those individuals having a genuine and purposeful influence on thinking and decision-making on central issues impacting retail – from people and culture to sustainability and innovation."
The Retail 100 2022 is sponsored by online checkout platform Bolt; customer engagement platform Braze; workforce management solutions provider Fourth; and business process outsourcing specialists Webhelp.
Webhelp managing director for retail Mark Guest said he is delighted to be "celebrating those who are transforming the sector".
"Retail Week's decision to look at the wider c-suite in this year's list and to champion the human face of retail leadership is a really positive one. In particular, it's great to see those who champion sustainability and their people being recognised.
"This focus on people is very much aligned to our own Think Human vision, where the key to our culture is the happiness of our people as we believe happy colleagues equal happy customers. It is great to see Retail Week place greater emphasis on the leaders who make a difference in this space," he added.
The Retail 100 2022 will launch on June 16 to showcase the UK's most inspiring retail leaders. Head to this link on June 16 for free access.