The retail industry has paid tribute to Jacqueline Gold, who made Ann Summers a fixture on the high street and has died aged 62.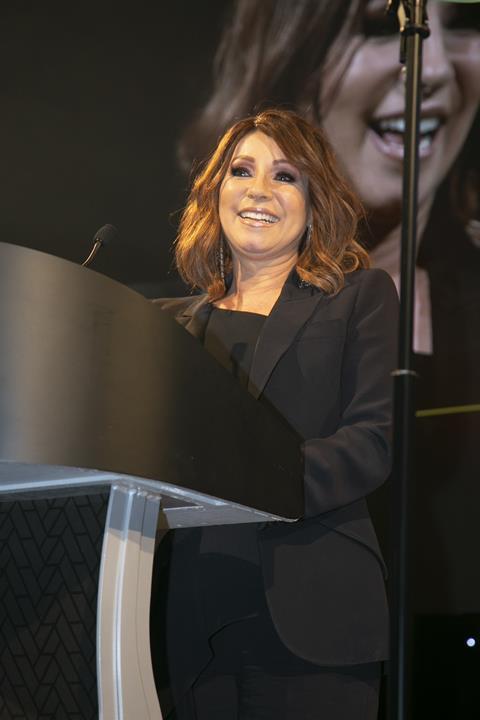 Her death, after several years of treatment for breast cancer, was announced by her family today.
Gold started as an intern at Ann Summers, originally bought by her father David Gold as a two-store operation in 1972, and became chief executive within a decade.
As she expanded the lingerie and sex toys specialist, which now has 80 branches and is famous for the party plan direct-selling model that helped transform attitudes toward Ann Summers, she also built a reputation as one of the UK's foremost businesspeople and a champion of women's empowerment.
She was awarded a CBE in 2016 for services to entrepreneurship, women in business and social enterprise.
Her sister Vanessa Gold, who is Ann Summers' chief executive, said: "Jacqueline courageously battled stage-four breast cancer for seven years and was an absolute warrior throughout her cancer journey.
"In life, she was a trailblazer, a visionary and the most incredible woman, all of which makes this news that much harder to bear. As a family, we are utterly heartbroken at the loss."
Retail entrepreneur Theo Paphitis told Retail Week: "Jacqueline Gold is a loss to all those who knew her, including the world of retail.
"She led from the front and was a warm, supportive force for female entrepreneurs and championed those who showed passion and ambition in the world of business. She will be missed."
Iceland boss Richard Walker tweeted: "Such sad news. Jacqueline was a brilliant retailer, and champion of women in business. RIP."
Gold was closely involved with Retail Week, first as a columnist and later as an ambassador for the Be Inspired programme.
In 2019, she was named Retail Activist of the Year at the Retail Week Awards, in recognition of her campaigning on diversity and equality.
Retail Week editor-in-chief Charlotte Hardie said: "Jacqueline was a huge advocate of Retail Week and our Be Inspired diversity programme in particular.
"As one of our founding ambassadors, she was driven by a heartfelt desire to see women succeed and for them to own this success.
"Despite a number of very difficult challenges in her life, she was someone who achieved so much and did so with kindness and empathy. She really was the most genuine of role models."
Retail Trust chief executive and former Retail Week editor-in-chief Chris Brook-Carter said: "Jacqueline was massively supportive of our work at the Retail Trust and inspired us all to do more around driving the agenda for diversity and inclusion.
"Over many years, she was also a great inspiration personally. She set the bar high as a real force for good for retail. Jacqueline faced the incredible challenges in her life with dignity and bravery, and she'll continue to inspire us all. She will be very sadly missed."
Brunswick partner and former Retail Week editor Tim Danaher, who originally commissioned Gold as a columnist on the magazine, said: "Jacqueline was one of the warmest, most decent individuals I have come across in my years working with retailers.
"She was actually quite a shy, reserved person but had a steely determination and overcame great challenges both professionally, to get Ann Summers where it is today, and personally, in her long and brave battle against cancer.
"She cared deeply about her family's business, about retail as an industry and about women's empowerment more generally, and was always willing to speak out to support the causes that she cared about."
Jacqueline Gold died two months after her father, David, who was 86.