James Hart was Asos' first employee – before it was even a website. Hart joined founders Quentin Griffiths and Nick Robertson as they travelled around TV studios in a van trying to win placement deals for brands, years ahead of the inception of a website for clothes worn by actors in famous films (hence the original name As Seen On Screen) and long before it became the fashion giant we know today.
In 2015, Hart struck out on his own to found Kidly – an online kids clothing, homeware and toy business that will celebrate its eighth birthday this year. We spoke to Hart to find out about going it alone, becoming the Asos of kidswear and what growth has been like so far.
What made you decide to leave Asos and start your own business?
"It was just natural. I left within the same year as most of the founding directors of the business. We'd done almost 15 years and started in a room of people where everyone knows everyone else's name. Then there were 1,000 people and we reached a £1bn turnover from nothing. And I think from a personal perspective, I turned 40, which is one of those numbers when you think: what's ahead of me?
"I was also still an employee. I learned so much from Nick and Quentin but I didn't found the business. I had this little niggle around wanting to start something of my own and testing myself."
What's the inspiration behind the business?
"Kidly is a one-stop shop for kids. At home, a lot of great clothes from Asos were arriving but then I was going to an out-of-town kids' superstore on the weekend with the buggy trying to find stuff for my kids and having an awful time. I thought I was dressing quite nicely at this point; I'd bought my first house and was quite proud of it but I had a pile of horrible toys in the corner of the playroom. I thought: well, there's got to be better kid's products out there and there have got to be better ways to buy them.
"As a new parent you want the comfort of knowing what you're buying is the right thing but also that your sense of style and identity is being reflected. Buying online is convenient as a young parent – convenience is a really big thing for me."
Is it Asos for kids?
"One of the things that people don't know is that Asos did do kidswear. We had a brand called Little Asos around 2008. My kids were very young at that point and I was buying it all the time. What I liked about it was that it wasn't pinks and blues, it was like mini-me. But then we stopped it – we thought Asos is a young person's fashion company, we don't want our customers to grow with us, we want to bring in the new generation of customers. So we closed it down and I missed it, and I thought I could probably do something like that."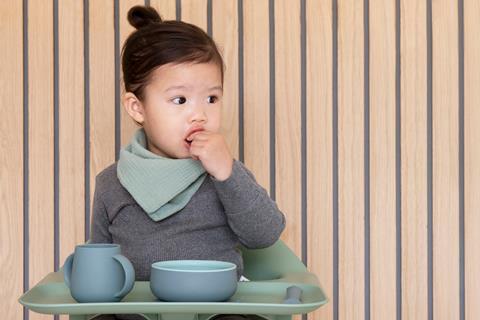 How big is Kidly now?
"We're basically a £10m business. We started off reasonably, just me and a few people in the room. We knew what we wanted to achieve with no massive rush to do it. Nice, steady growth – then the pandemic hit and we grew 220% in one year. It was great for a few months and then it was like, how are we going to how are we going to manage this? For the last few years, it has been very challenging."
How important is own label to your strategy?
"We always had a plan to offer third-party brands plus Kidly Label. In the first year, Kidly Label was only 4% of revenue but it grew to 25% last year. It's now our biggest brand by miles; customers love it and it has a great price point, and it's about 20 margin points better than our brands.
"Selling third-party brands is very challenging. What we've done is we've reduced our third-party bands from around 250 to 40 of our best-performing, highest-margin bands and we are focusing even more on developing Kidly Label."
Do you ever see yourself moving into physical retail?
"I think there's an opportunity in the physical space that didn't exist before. You can almost go about it from a marketing perspective and actually test the store format. We had a pop-up in St Albans last year that was great and we saw a halo effect on digital sales within a 10-mile catchment of the store.
"I really enjoyed having a physical presence. For me, I think it's about being in front of people. We've got about 20% awareness of parents of 0-4-year-olds in the UK. That's certainly not bad for a seven-year-old business but there's still 80% to go."
Read more Q&As with retailer leaders and founders, including: