After a 20-year stint in digital roles in some of retail's biggest names like N Brown, Marks & Spencer and Very, Ralph Tucker took on his first CEO gig at premium home and furniture retailer Cotswold Company just four weeks before the pandemic hit. After working through his baptism of fire – and several other macroeconomic crises since – we spoke to Tucker about his vision for the brand and what he has planned for the year ahead
What's your approach to sustainability? What changes have you been making?
"When I was in fashion I wanted to be the anti-Boohoo, where you buy something and get rid of it in five minutes. I hated that when I was at N Brown. So I guess Cotswold Co is the antithesis of that. We wanted to really work hard to make sure our product would last 15, 20 or 25 years rather than five months.
"One of our strategies this year is to offer more repairs. I think there's a lot of opportunity for us there to do a better job of that, I'd love to have a little repair shop in the showroom. We used quite a bit of polystyrene in our packaging and it's been a year-long project to get that out. That was really customer driven and probably the thing I got the most feedback on."
What's your strategy when it comes to physical stores? How do you approach them?
"My view is we need to connect with customers the way customers want to connect with us. Lots of customers love seeing products in reality. We're about 80% online and 20% retail spaces, but they're a great opportunity to showcase our products. The pandemic forced everyone to innovate and we used our showrooms (even though they were closed to the public) to showcase the products with GoPro cameras and allow customers to video call and see the product to scale next to a person.
"We absolutely see stores as a vital part of the consumer journey. And I love watching the store interactions because that's the best way to sell. That's the consumer connection that has excited me through many, many years in retail."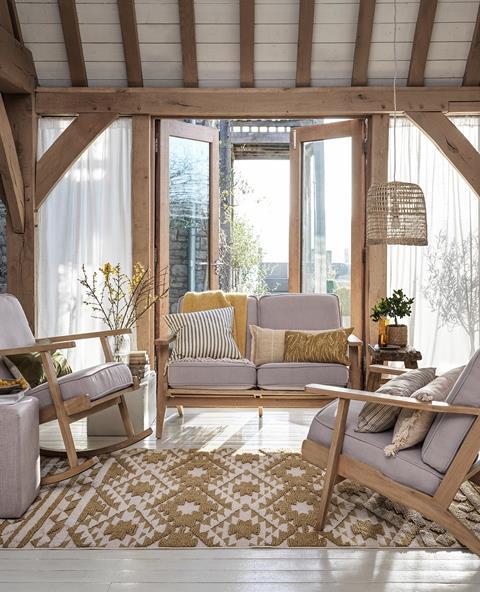 You have eight showrooms. Are you planning to open any more?
"We will do. We are taking a cautious approach at the moment because the world is pretty crazy. But, certainly, the plan for the next 18 months is to open more showrooms. We feel like there are lots of great locations – we were debating Edinburgh versus Glasgow – there are opportunities in London and bath around the M25 as well."
The supply chain crisis hit soon after you took on this role. How was that?
"We make a lot of our products in South East Asia and I'm very proud of that. We make it in small artisanal factories in primarily in northern China and Vietnam. We're pretty exposed to crazy container rates so that certainly was tough for us over those years. We have moved products, where it's possible, back to the UK so our mattresses are made here and all our upholstery is made in Long Eaton.
"We do build some of our cabinetry in the UK, because it's not flat packed, so you can't give it to a customer and hope they can do it because lots of our products need specialist care and attention.
"We did try and insulate ourselves a little bit by reducing the number of containers we went through but I think it's getting that balance right between getting great value and great product from South East Asia."
A few retailers are trialling a four-day week. Have you considered it?
"I've got a friend on the government trial for it and it's 100% positive from his perspective, but my only caveat is that the trials are in head offices. Most of my team work in stores, at the warehouse and in our call centre, and I'm more concerned with that.
"Although it's not creating a four-day week, we increased holiday for people last year to give them more time off. I think we need to really treat everyone like grown-ups with working remotely or not.
"Connecting with people in an office is really important, I'm not underplaying that, but we have to recognise people's lives have transformed through Covid. We're 50% bigger than we were three years ago and that's been driven by the people here."