With the accountancy trade deep-rooted in his family, a career in the field was "almost inevitable" for McColl's finance boss Jonathan Miller.
But the path McColl's new chief executive has trodden as a third-generation accountant wasn't always quite so cut and dried.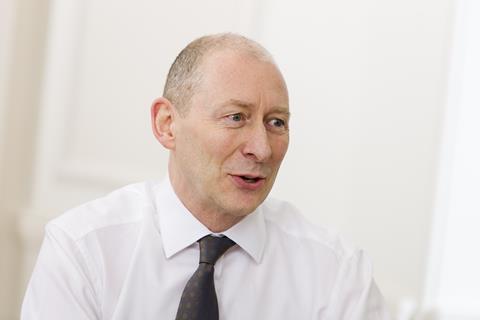 Back in 1981, Miller enrolled on to Imperial College London's Bachelor of Science degree in geology and Earth science.
It seems a far cry from the number-crunching occupation he eventually opted for upon graduating three years later.
The man who will officially succeed James Lancaster as McColl's boss next month told Retail Week he only turned to accountancy "because I needed a job."
Miller adds: "I don't think I had a clear idea of what I wanted to be at that time. I just knew what I didn't want to be. What I didn't want to be was an accountant.
"Having said I didn't want to be one, I'm very glad I chose that route because I've had a fantastic career and lots of brilliant experiences."
Business priorities
That career began as a trainee accountant at Deloitte, where he spent four years, before moving on to a subsidiary of the WPP group. In 1991, he joined the cigarette vending arm of the business that would eventually be renamed McColl's.
Having worked his way up through the retailer, Miller became chief financial officer – a wide-ranging role that also sees him take responsibility for store development, as well as its human resources and IT functions.
They are not quite the skills he acquired during his time at Imperial, a course upon which he reflects: "I am qualified to find oil – and not just under the bonnet."
Despite already having a keen grasp of the McColl's business, Miller is already looking forward to delving even further under the retailer's hood in the coming months.
"I've been closely involved in the wider business for quite some time, so I feel I've got a good foundation to build upon. It's a step up for sure, but I'm ready for it"

Jonathan Miller, McColl's
"I've been in the business a long time so I know the business, I understand how it operates and what makes it tick," he says.
"I've been closely involved in the wider business for quite some time, so I feel I've got a good foundation to build upon.
"It's a step up for sure, but I'm ready for it.
"My priorities are pretty clear. We need to continue to grow our convenience business through acquisitions and conversions. We need to develop the key convenience categories of food-to-go and fresh, and we need to continue to give great customer service.
"I feel we need to focus even more on the customer. The sector is no less competitive, so we need to, more than ever before, put the customer at the heart of what we do. We've got to understand our customers' needs a bit better and we've got to satisfy them a bit better."
Wide skill-set
Miller insists McColl's is already "doing the right things" in its bid to grow its bricks-and-mortar footprint beyond the 1,000-store mark and "blur the lines between convenience and fast food outlets".
His predecessor Lancaster, who will step up to the role of non-executive chairman from April 1, has already rolled out Subway shop-in-shops across five McColl's stores in its drive to achieve that latter aim.
Miller, who is one of relatively few chief financial officers in retail to have been handed a crack at the top job, has big – and strategic – shoes to fill.
But Miller, who describes himself as "inclusive, a good communicator and enthusiastic" when it comes to leadership, passionately refutes the claim that finance bosses do not have the retail nous required to step up to that plate and succeed in chief executive positions.
"I think that is a generalisation," he insists. "I'm more than just a numbers man. I've always been involved in wider areas of the business.
"I don't just run the finance team in my current role, I've looked after HR for a number of years, I've looked after store development and IT.
"Alongside James I've been involved in pretty much everything within the business. So I do consider myself to be a strategist."
Having been thrust to the forefront of the fiercely competitive convenience market, Miller now has the chance to prove exactly that when he takes on the top job next month.