Musical chairs across the fashion sector as retailer Jacques Vert brings in new senior executives and Coast overhauls its management team.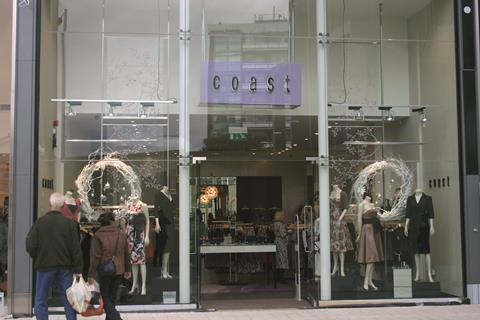 Move of the month…
…is a welcome return to a top finance role for former Supergroup man Shaun Wills who becomes chief financial officer at Jacques Vert just weeks after his well-publicised personal bankruptcy was annulled by the courts. It's no surprise that someone with Wills's considerable retail experience has been snapped up so quickly and I wish him all the best for a fresh start in his new role.
For a comprehensive list of retail moves in April, see the table on the right.
Promotion of the month…
…for Tim Davies, the former Debenhams executive who becomes Jacques Vert's new chief executive just two months after joining the fashion group as interim transformation director.
All change at…
…at Coast where a restructure of the top team has resulted in 17 departures, the most high profile of which are that of buying director Andrea Hickman, digital director Jess Shepherd and human resources director Lisa Bedford. The main beneficiary from the shake-up is merchandising director Andrew Skinner whose promotion to the job of managing director leaves chief executive Kate Bostock free to indulge her creative instincts. The two previously combined effectively at M&S where, as director of the Per Una brand, Skinner oversaw day-to-day business activities working in tandem with general merchandise chief Bostock.
More musical chairs…
…at Morrisons where group trading director Casper Meijer has returned to the Netherlands after two and a half years leading the grocer's trading strategy. Morrisons veteran Andrew Pleasance has been named interim trading director, while Tim Bettley, Morrisons trading director of general merchandise and clothing, and customer director Crawford Davidson have followed Meijer through the exit. The news that former Asda executive Darren Blackhurst is to join the Potts revolution as group commercial director is further evidence of Potts's no-nonsense, back to basics approach. Blackhurst, who is currently commercial director at B&Q, is known for being a hard-nosed trader and may be just the man to breathe new life into the grocer's offer.
Switching roles…
…is Halfords' Andrew Findlay who has resigned his position as chief financial officer of the cycles retailer to take up the post of finance boss at budget airline easyJet. Findlay will remain in post until October, which should ensure a smooth transition. His exit also gives incoming CEO Jill McDonald the chance to stamp her own mark on her executive team.
Tony's trends
April was notable for much activity among upmarket fashion retailers with Jacques Vert, Ralph Lauren and Jaeger all reorganising their senior teams. Each retailer will have its own reasons for the changes – in Jaeger's case it's part of a five year turnaround plan initiated by chief executive Colin Henry – but it goes to show that in the fast-changing world of fashion retail there's always someone betting on a boardroom reshuffle to help them stay ahead of the pack.
The Anthony Gregg Partnership
Tony Gregg is chief executive of the Anthony Gregg Partnership. Founded in 2003 and located in Henley-in-Arden and London,The Anthony Gregg Partnership specialises in the consumer search market space.