Maplin's full-year profits have taken a hit after the retailer invested in customer service, infrastructure and multichannel services.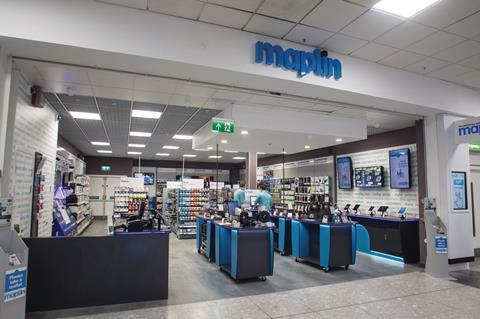 The electronics retailer's pre-tax profits fell 18% to £13.3m in the 64 weeks to March 22. This compares with £16.2m it generated in the 52 weeks to December 29, 2012. Maplin moved its year-end to better represent its trading year that is weighted heavily towards Christmas.
Operating profits fell from £16.2m to £13.9m during the same period as investments in the business took their toll, according to Maplin.
This week Maplin unveiled Darren Shapland as its new non-exec chairman. He replaces John Lovering, who led Maplin's sale to Rutland Partners in June and is retiring following the change in ownership.
The retailer's sales increased slightly during the comparable period. It recorded £217m turnover for the 52 weeks to December 2013, up from £214m during the 52 weeks to December 2012.
In the 64-week period, sales hit £269m.
Like-for-like sales fell by 0.2% during the 64-week period, but are on an improving trend. They jumped 8.4% in the last quarter of the extended period.
Investment is being used to expand the number of Maplin's fulfilment options including click and collect, send direct to home, reserve at store, order-in to a local store and direct delivery from a local store.
Maplin opened 15 new stores over the 18 months to March 22 and invested in a new web platform. It is also targeting 40,000 SKUs by the end of the year across all channels, up from about 30,000 it has at present.
Maplin was acquired by Rutland Partners for £85m, following a protracted sale process by former owners Montagu Private Equity.
Retail Week has learned that Maplin Direct managing director Michel Lieffering left the business last month after only eight months in the role. Maplin would not comment on the reasons for Lieffering's departure or whether he has been replaced. It is thought he will remain an advisor to Maplin.