"All new leadership teams need to arrive like a thunderclap whether they're coming from inside or outside the business to create that new sense of direction, electricity and appetite for change," said Marks & Spencer chair Archie Norman as the retailer unveiled its full-year results.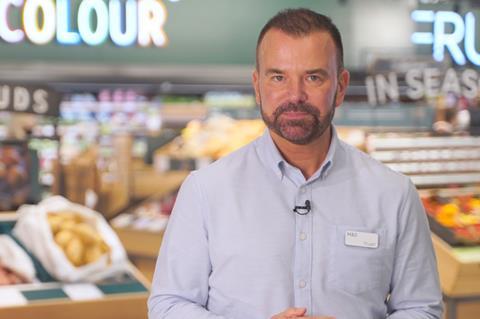 As the frontman of the new M&S leadership team, chief executive Stuart Machin, who marks a year in the role this month after being promoted from heading the food division, would have been conscious of the need to meet high expectations externally as well as internally – and was pleased about his first set of preliminary results.
When he became chief executive, Machin he might have been forgiven for thinking never mind the thunderclaps, a thunderstorm is breaking.
The last year has been punishing for retailers as they have battled to draw in consumers hit by a cost of living higher than most will ever have experienced and as businesses' costs climbed – everything from the need to raise staff wages to the impact of Russia's invasion of Ukraine unleashed a tsunami of disruption.
Reflecting on his first year, Machin acknowledges "it has been quite a challenging year" but he tells Retail Week: "We have balanced that with a clear focus on what is in our control. Think about inflation. The industry has been under immense pressure. Focusing on what we should do, what that does to volumes, what that does to customer trust – that is in our control. When you're up against it, that's when leadership comes in with clarity and calmness."
He is backed up by co-chief executive Katie Bickerstaffe, who assumed that role when Machin was promoted and has focused on building omnichannel prowess and performance in clothing and home.
The leadership structure raised eyebrows at the time among some observers but Machin says: "We were joint COOs. We're different, we bounce off each other. Katie asked me today for some advice and a few nights ago I rang her and said: 'What do you think about this?' It's not about me, it's not about Katie, it's about the team and it's a team effort."
That team effort enabled M&S to report revenue up 9.6% last year to nearly £12bn. There were advances in fashion and food, apart from at the Ocado joint venture.
Stores performed particularly well as lockdowns and Covid restrictions became an unpleasant memory. Pre-tax profits rose to £475.7m from £391.7m. The performance was in stark contrast to that of embattled rival John Lewis Partnership.
The sweet spot
Machin, who keeps a daily record of what he has done to make a difference at M&S, has put value at the heart of its strategy.
Greater emphasis on value was already a characteristic of his time running the food arm but in his first year in charge of the group, it has assumed even greater importance across the business, alongside product quality, as consumers' income was squeezed until the pips squeaked.
In food, for instance, M&S sharpened prices on approximately 100 'Remarksable value' lines – sales of the range rose 40% and featured in 20% of baskets – and locked prices on 150 "everyday family favourites".
In clothing, a 'value you can trust' campaign helped drive sales of 2.1 million pairs of £12 pyjamas, while a wider price overhaul identified a £39.50 "sweet spot" on dresses – 300,000 were sold at that price. At the same time, style perceptions showed a marked improvement among shoppers, according to YouGov data.
Machin said: "We didn't pass on the full force of cost increases to customers. As we've invested in value, we've been encouraged by the volume numbers. Our [food] customers are conscious of value; they are buying slightly less and shopping slightly more.
"Confidence has been improving and they're looking to protect some of the this they're planning for this year, like holidays. Our volume numbers in clothing have been pretty strong as well, as our style and value get better."
He intends to maintain a determined value stance and says: "As commodity prices come down, of course, we will pass that on immediately. Commodity prices coming down are never as fast as they are going up but we're tracking those carefully."
Room for everyone
Machin's overarching strategy, called M&S Reshaped, is based on nine pillars. They include cost savings and supply chain improvements, through to omnichannel and digital innovation and faster store churn – frequently relocations.
The implementation of self-scan tills in food – more are planned this year including in clothing and home – has helped M&S to reach its target of 10% retail staff costs as a percentage of sales earlier than anticipated. Other initiatives are also bringing efficiencies that mitigate higher costs.
Similarly, omnichannel plans such as encouraging greater customer use of its app and click and collect should power sales as well as improve efficiency.
As well as business execution, Machin has been keen to build the right culture at M&S. "One of my first actions was to create a culture that's closer to our colleagues, closer to our customers," he says.
He reintroduced a staff suggestion scheme, 'Straight to Stuart', which in its first year has generated 10,000 messages – "a testament to the culture and passion of our teams", says Machin. All head office staff must spend at least seven days a year working in stores to be closer to customers.
Asked to describe the management style he brings as boss, Machin cites what others have told him. "People say I'm pretty relentless – I know that. Ambitious. They say I give people room though, and time. As CEO in year one, you're always looking for balance – being in control, not being controlling. We let people work their own way; there's room for everyone."
Bigger and better
As Machin starts his second year in charge of M&S, he strikes a cautious tone on the trading environment and profits in the new financial year. He says he is determined not to overpromise and underdeliver.
M&S continues to confront punishing costs. It will spend £100m more on wages and £50m more on energy this year. However, he is confident the emphasis on value, quality and innovation will deliver its targets such as market share growth of 1% at both businesses over the next five years and adjusted operating margin of 4% in food and 10% in clothing and home.
Long-time M&S observer and retail analyst Maureen Hinton says of Machin's first year: "I think he's done well. The focus on value along with quality and innovation has made it stand out [in food]. On clothing and home, there's been years of decline so it's good to see it growing."
The City seemed to agree – at the time of writing, M&S shares were up more than 12%.
Norman maintained: "What this set of results shows is not just a strong set of financial results but also the acceleration of the pace of change, the drive for performance, the drive for innovation."
Norman, one of the most experienced and exacting of chairs, gave Machin – who he has worked with for years at a variety of retailers – a stamp of approval when he concluded: "When the results are strong, the chairman should say less."
So, the last word to Machin: "As a leadership team, we say we are always positively dissatisfied. It reflects the fact we've made progress but we're relentless in our determination to make M&S a bigger, better growth business."