Since the lockdown, people have taken to shopping where they live and local retailers have come to the fore. Many have adapted, served and won loyal customers over the past eight months. Retail Week highlights some of the thriving businesses that hold lessons for all of retail.
Since lockdown was imposed in March, in its aftermath shopping habits have changed beyond recognition.
As people worked from home and avoided busy city centres online retail grew in importance, but so too did local retail as consumers discovered, or reacquainted themselves, with the shops on their doorsteps.
Like their bigger counterparts, independent neighbourhood retailers faced challenges but have found ways to adapt and build on newfound shopper interest to retain custom over the longer term.
Among the biggest beneficiaries were food shops – not just convenience giants such as the Co-op, but local c-stores, butchers, bakers and pharmacists.
Other local players have also managed not just to keep their heads above water but to cement and extend local appeal. They have done this by doing everything from maintaining availability to standing out for their service standards and, like their giant counterparts, switching into the potential of online.
In May, grocery market monitor Kantar recorded sales growth of 63% at independent and symbol food stores. While that rate of growth has moderated, it was still almost 20%, according to the latest data released earlier in October.
Local hero: Budgens, Kenilworth, Warwickshire
As panic buying put pressure on availability and then lockdown was imposed, local food stores as well as the big grocers had to be fleet of foot to adapt to the challenges and manage the surge in trade.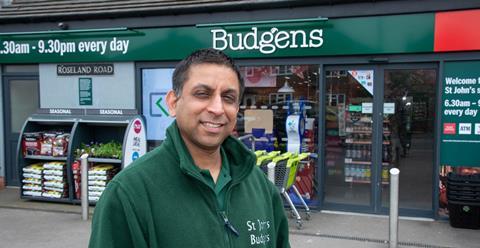 C-store owner Avtar Sidhu, known as Sid, stepped up to the plate to keep the shelves stocked, run his shop safely and play his part at the heart of the community.
Sidhu's 2,000 sq ft Budgens store is built on four cornerstones – fresh and chilled, local products such as bread and honey that reflect the area the shop caters for, alcohol and tobacco alternatives.
"We're part of the fabric of the local community and that runs through us," he says.
Sidhu recalls: "When it first happened, things were moving so quickly it was difficult to react."
However, luckily he already had plans in place for a local delivery service before the emergence of coronavirus and anticipated that "store to door would be the next big battle".
He accelerated his plan by deploying the Snappy Shopper app, offering delivery in between 30 and 60 minutes. A taxi driver whose work had evaporated took charge of fulfilment and now works full-time for Sidhu.
"During lockdown it was incredibly popular," he says. "It went through the roof and as people found out it was available we got repeat orders."
Sidhu even took on delivery to elderly and vulnerable shoppers on behalf of the local Covid support group, which organised food deliveries among the local community.
"People regarded us differently. They saw our role as bigger than a convenience store. It rekindled community spirit"
One of the biggest challenges Sidhu faced was that six staff members either stopped working or had to isolate, putting the business under great strain.
"My first thought was, could we stay open? We decided we would, and then it was about making food available to everyone who needed it whatever it takes – deliveries or restocking at midnight."
He put a call out on social media for help and local volunteers, including people furloughed from other jobs, worked for nothing to ensure the store could trade and deliver to the vulnerable.
"It was just amazing – these people wouldn't accept any money. Everyone realised the role we play," he says.
Sidhu estimates that he has retained "a good third" of the additional trade gained during lockdown, highlighting the value people place on their local shop.
"People regarded us differently," he concludes. "They saw our role as bigger than a convenience store. It rekindled community spirit."
Building loyalty
Retailer turned specialist consultant John Heagney, a founding partner of C-Store Collective, believes "good" local convenience stores are holding on to between 20% and 25% of trade won during the pandemic.
Many are now investing, particularly in categories such as chilled, to improve their stores and cater even better for customers. He is optimistic about their prospects as they meet and exceed local shoppers' expectations.
Heagney says: "I think there's been a change in mindset. They've risen to the challenge and raised the bar, and are delivering high service levels and extended product ranges. Consumers had been guided by big brands, but they've gone back to the high street and been pleased at what they've discovered.
"Consumers had been guided by big brands, but they've gone back to the high street and been pleased at what they've discovered"
Retail consultancy Canny Insights founder Graham Soult, a longstanding adviser to independent retailers and to the High Streets Task Force, thinks that while local food retailers have been winners, others – especially in essential categories – are also benefiting and will continue to do so.
He observes: "More people are going to be working from home for longer and are likely to stay more local. There's a lot more acceptance of the 'shop local' message – people have discovered what's on their doorstep and appreciated how hard retailers have worked to keep them safe and well stocked."
Local hero: Banquet Records, Kingston upon Thames
With a heritage stretching back to punk music label Beggars Banquet, it should be no surprise that this local record store was defiant in the face of Covid disruption and brought an independent spirit to bear.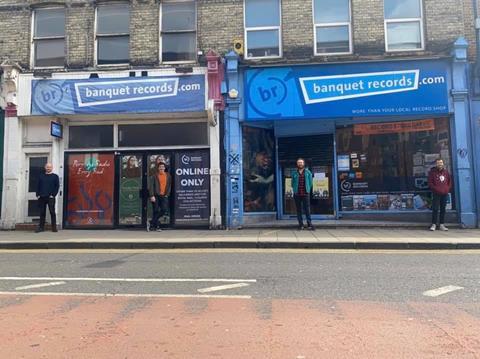 The retailer, which also sells online and puts on live concerts, maintained the ethos that made it so popular among music fans and launched initiatives ranging from delivery by bike to some of the first socially distanced gigs as the pandemic dragged on.
"We've always tried to find ways of taking things that sound like a good idea to a good business idea," says owner Jon Tolley.
The three legs of business – the store, website and events – were all of equal importance to Banquet before the crisis but it is online that has really kept it going. Quite an achievement for a business that Tolley who when he took ownership of the business 15 years ago is unsure of "whether we owned a computer".
Today digital is keeping him in business. "We chose not to reopen the store, and we put all our focus on the website and made significant improvements," he explains.
Banquet's store remains closed now, reflecting factors such as the difficulty of social distancing and keeping staff safe. But the personal touch was retained by a click-and-collect option for local customers and hand-delivery by bike, enabling some of the shared enthusiasm for music between customers and staff to be maintained.
"We've always tried to find ways of taking things that sound like a good idea to a good business idea"
Music retail shares the same trading peaks as the wider industry but it has one big event of its own – Record Store Day in April.
Then, Tolley says, Banquet might typically make six days' worth of sales in six hours. This year's event was cancelled but a series of three 'drop dates', when titles are released as part of Record Store Day, was organised instead.
"Despite everything, we are significantly up on 2019," he says.
Tolley remains determined to reopen the bricks-and-mortar store. He believes the turbulence accelerated by Covid means that "the future of the high street is still to be decided" but is convinced independent retailers can continue to play their part.
"I think independents can adapt quicker than corporates. We can pick up an idea and put it into action straight away, and that's the only way retail can survive."
Digital dynamism
Soult thinks digital has made a big difference and says: "We're seeing bricks-and-mortar businesses being more clever in terms of innovation."
That may be use of Facebook and other social media to increase visibility and connections in the community, through to online delivery. Durham's covered market, for instance, shifted online and enabled people to do a full market shop.
Vitally, he says, local businesses have been able to "tell their story" more effectively through social media. "The worst thing they could have done was keep silent," he says. "My sense is that Covid has made everybody realise, if they hadn't already, the issues the high street faces and emphasised the importance and value of an independent offer."
Local hero: Seekology, Richmond upon Thames
Less than a year ago, in November 2019, Rebecca Saunders opened her own retail business, Seekology. Having held roles at big retailers including Notonthehighstreet and Argos, and been a premium beauty buyer for department store group John Lewis, the opening of her own beauty and wellbeing business was the realisation of a long-term ambition.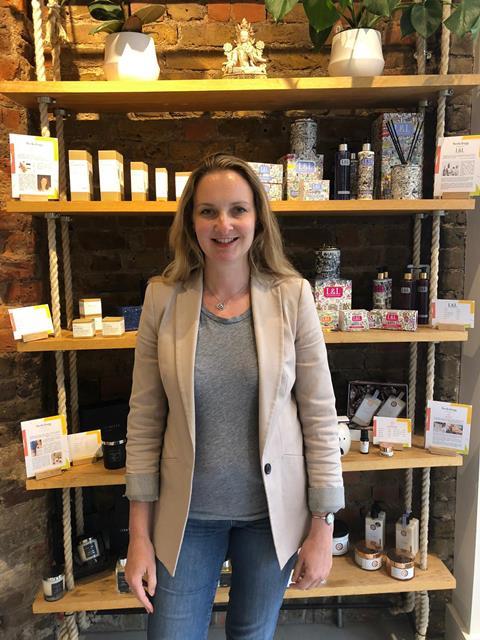 Less than six months later, as the pandemic broke out and a nervy Britain went into lockdown that shuttered all non-essential retail, Saunders closed her shop for good and handed the keys back to the landlord.
However that setback did not spell the end of Seekology. A transactional website, already close to launch when the health emergency struck, enabled Saunders to continue trading and, despite the uncertain trading environment, Seekology has just opened another bricks-and-mortar store in Richmond, inside well-known local wellness centre Bhuti.
"Both channels are growing," says Saunders.
Seekology was originally designed to appeal to local customers and sold local brands – supplements made in nearby Chiswick, for instance.
The idea was to offer shoppers in well-heeled Richmond a unique product range and experience of the sort they would previously have had to travel into central London for, and cater for a demand for independent brands with local connections that customers felt good about supporting and which made thoughtful gifts.
Saunders says the online business, which is fulfilled directly by suppliers, "took off pretty immediately" during lockdown. Demand for products such as yoga mats was strong as people were forced to exercise at home with gyms shut, and she introduced online consultations that enabled Seekology to make the most of its expertise and standards of service.
"Our point of difference is being impartial about brands"
"Our point of difference is being impartial about brands," she explains, in contrast to the competing plethora of brand concessions in a department store.
Some might be surprised that, in the present circumstances, Seekology has opened another shop but Saunders remains convinced of the value of a physical presence.
"I've always been a huge proponent of multichannel retail, she says. "So many customer journeys involve both channels. We're getting a lot of people coming for face-to-face skincare advice. By coming together in Bhuti and sharing the opportunity we could be more than the sum of our parts."
Soult believes that funding available for town centre improvements, and collaboration between businesses and local authorities, creates opportunity for the high street.
Property specialist Jonathan De Mello, partner at CWM, says working from home – when everybody from the chief executive to the most junior staff member is doing it – means that retailers must "gear up for the localism trend" as the desertion of city centres leaves businesses that traded there exposed.
For some big retailers, that is likely to mean a reappraisal of their property portfolios. For local indies, there is an opportunity to seize the moment and make the most of their strengths.
De Mello says: "In customer satisfaction surveys, independents tend to come out higher. They're invested in their businesses, they're not just clocking in and out – you can see it. Customers have been forced to shop locally and they've found it a nice experience."
Local hero: Gifted Local
Young mum Helen Robinson always loved a trip to her local shops in Muswell Hill, London. But the time she had to devote to her children, and worries that they might break expensive items as she browsed, meant she was unable to visit the high street as much as she would like.

Confident there were many people in the same position, Robinson, a former executive at media giant Viacom, and childhood friend Florence Eavis launched Gifted Local just over a year ago.
It is a hyper-local online marketplace designed to offer shoppers distinctive gift lines, all supplied by businesses in the area, and a concern to minimise environmental impact – orders, fulfilled by suppliers, are often delivered on foot.
Trade was subdued when lockdown was imposed and consumers were preoccupied with ensuring their cupboards were stocked with staples, but in the months since it has regained momentum.
"As things have calmed down we've seen steady growth," Robinson says.
Consumer interest in local goods and healthy high streets was generally growing before the pandemic and Robinson believes that will continue.
She says: "The feedback we are getting is that people like to support local businesses. They're rediscovering their high streets and community, and they like buying something with a lovely story behind it."
"People are rediscovering their high streets and community, and they like buying something with a lovely story behind it"
Eavis says the number of sellers on the site has risen to 80, reflecting the rise of lockdown habits such as working from home. "Some businesses have told us that they've sold more on our site than on some much bigger platforms," says Eavis.
Gifted Local's sellers are mainly "creative makers" but local shops, typically those that had no online offer of their own, have also been signing up.
At present Gifted Local covers five north London postcodes in Haringey, ranging from affluent Highgate to more workaday Tottenham, but the pair hope to expand to serve other parts of London first and eventually the country – always prioritising products in the customer's vicinity. "The plan has always been to have it across Great Britain, but have that local feel."