In response to the humanitarian crisis in Turkey and Syria following the huge earthquakes on February 6, retailers have pledged to help victims, charities and first responders in the region, with many donating money, clothes and blankets.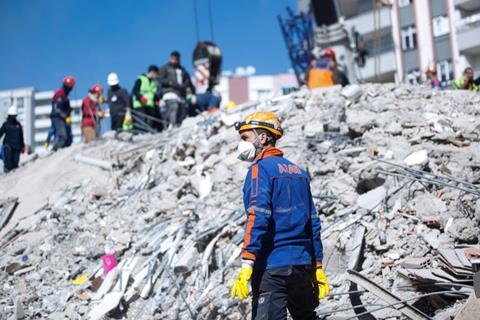 Aldi
The grocer revealed in a LinkedIn post that it would be making a donation to the Red Cross.
It said: "The Aldi South Group are donating €500,000 [£444,370] to the Red Cross to assist their disaster relief efforts in Turkey and Syria. We are monitoring developments in both countries and working to help individuals, families and communities affected. Our thoughts are with those affected."
Amazon
Amazon announced the activation of its disaster relief services on February 6 to help the Red Crescent and other relief organisations that are supporting survivors of the earthquakes.
The company donated its first truckload of relief items from its fulfilment centre in Istanbul on February 7, which included heaters, blankets and other goods to help people keep warm.
A new donations page on the Amazon Turkey website has been set up. Within three hours of it going live, customers had donated more than 5,000 items.
Abe Diaz, head of Amazon's disaster relief programme, said: "This immediate delivery is just the beginning of Amazon's response.
"Over the coming days, we'll work with local organisations and disaster-relief groups to identify on-the-ground needs and use Amazon's logistics and delivery network to meet them."
Apple
On February 6, Apple chief executive Tim Cook tweeted: "Sending our thoughts and condolences to the people of Turkey, Syria and anyone affected by the devastating earthquakes. Apple will be donating to relief and recovery efforts."
It has not yet been announced how much the company will be donating.
Asda
Supermarket giant Asda has confirmed it will donate £100,000 to Unicef to help support their efforts to provide aid to victims of the devastating earthquakes.
The retailer said that George at Asda has "also been in close contact with its suppliers in the region, who are providing shelter and clothing to families who have lost their homes". The George Office in Turkey is also providing donations of warm clothing to those in need.
Mohsin Issa, co-owner of Asda said; "Our thoughts are with the people of Turkey and Syria as they come to terms with these terrible events. We stand with our fellow retailers and businesses in offering our support to the humanitarian effort and are proud to work with Unicef as they provide critical aid on the ground. I also applaud our colleagues and supply partners in Turkey, who are opening their factories to provide shelter at this terrible time."
Boohoo
Fashion retailer Boohoo will be donating £100,000 to the disaster relief effort. On top of the donation, Boohoo said it had organised three sample sales with the proceeds also going to support the relief effort.
The brand said its staff in the country, based in Istanbul, were safe but some of its third-party suppliers had been affected.
Iceland
Frozen food chain Iceland has pledged to donate £50,000 to the relief effort. Managing director Richard Walker said: "We felt compelled to help by offering a donation in support."
Ikea
Swedish giant Ikea has pledged to donate €10m (£8.87m) to emergency charity Médecins Sans Frontières' emergency fund in Turkey and Syria. The retailer said the donations would go to "the delivery of essential aid, including medical assistance, psychological support and healthcare services to those most impacted by the devastating earthquake."
Chief executive of the Ikea Foundation Per Heggenes said: "We are deeply saddened by the devastation and loss of life in Türkiye and northern Syria following Monday's earthquakes and especially by the impact on children and their families. Our hearts and thoughts go out to all those who are affected. I call on the world's governments, businesses, and philanthropies to join us in the relief support for Türkiye and northern Syria."
Kingfisher
Retailer Kingfisher is making a donation to the Disasters Emergency Committee and its banners are also sourcing supplies to help survivors who have lost their homes. Castorama France and Castorama Poland are working with Kingfisher's sourcing office in Turkey to transport heaters to affected communities.
The retailer also said that trained volunteers from across Koç Group, its joint venture partner, have so far rescued 84 people from under the rubble and its joint venture in Turkey, Koçtaş, is supplying blankets, lamps, picnic stoves, electric heaters and sleeping bags.
Marks & Spencer
Marks & Spencer tweeted from its M&S News account that the company had donated money and sent over 5,000 thermal items to the region.
It said: "We've made an immediate £50,000 donation to the British Red Cross, which is undertaking critical work on the ground and separately, have sent thermals to the region to be distributed by our local franchise partner."
The donation is part of The Sun's earthquake appeal, where all the money will be donated to the British Red Cross.
M&S chief executive Stuart Machin also tweeted: "Sending our thoughts and condolences to M&S teams & suppliers based in Turkey and anyone affected by the devastating earthquakes."
Primark
Primark pledged £200,000 and put out a statement which said: "Our heartfelt thoughts are with the people of Turkey and Syria and with everyone affected by the devastating earthquakes. Together with our parent company Associated British Foods, we have donated £200,000 through our global partnership with UNICEF to support the emergency response.
"Our sincere condolences go to all those who have lost friends, relatives and loved ones in this disaster. As a Group we are supporting our teams on the ground in Turkey, as well as our suppliers and business partners.
"We will continue to work with our colleagues and partners to understand the needs of those impacted and to provide additional support in the days and weeks ahead."
Sainsbury's
Sainsbury's has pledged £250,000 to the relief effort. Sainsbury's chief executive Simon Roberts said: "We are incredibly moved and saddened to hear of the catastrophic earthquakes. This money will go towards providing urgent support."
Tesco
Tesco has also pledged money to The Sun's appeal to support on-the-ground relief for survivors.
Jason Tarry, Tesco UK and Ireland chief executive, said: "Tesco fully supports this appeal and has committed to donating £100,000 to support the essential relief efforts of the British Red Cross."
White Stuff
Multi-channel retailer White Stuff announced in a LinkedIn post that it would be donating money to help with the ongoing crisis.
CEO Jo Jenkins posted: "Everyone at White Stuff was devastated by the news coming out of Turkey and Syria this week. We wanted to help in whatever way we could and I'm glad we're able to donate £25,000 as a small contribution to the emergency efforts.
"Thanks to our customers for supporting us to do this. Our thoughts continue to go out to everyone affected by the earthquakes."
Uniqlo
Global company Fast Retailing, that operates fashion brand Uniqlo, has said it "will provide emergency humanitarian aid to people affected by the devastating earthquakes that struck in Turkey and Syria" following an appeal from its global partner UNHCR, the UN Refugee Agency.
In a statement, it said: "One million euros and 40,000 relief winter clothes including 30,000 items of UNIQLO HEATTECH thermal items will be donated urgently to UNHCR, as part of their ongoing humanitarian response.
"Fast Retailing wishes to express our sincere condolences to the families of the victims and those affected by the earthquakes."
This story was last updated on February 13, 2023.