Frank Field MP has urged The Pensions Regulator to scrutinise any M&A deals involving pension deficits following the collapses of Carillion and BHS.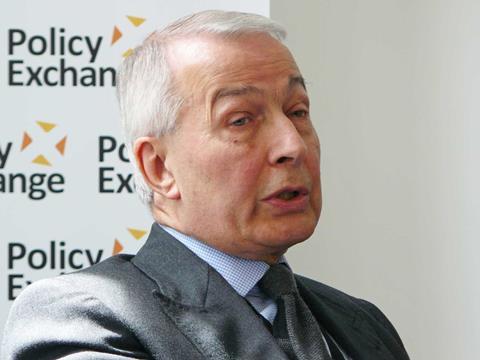 He was speaking following a report in The Sunday Times that Sir Philip Green was in the process of selling Arcadia to Chinese textiles business Shandong Ruyi. Arcadia has since issued a staunch denial.
Field, the chairman of the Work and Pensions Select Committee who has previously sparred with the Arcadia owner over the BHS pension deficit, told Retail Week that he wanted to ensure that pension holders had a voice in any deal with a major pension deficit attached.
He added that The Pensions Regulator, currently led by Lesley Titcomb, should shoulder more responsibility when ensuring that pensioners were not left out of pocket in deals.
Field said: "What we propose is that the regulator should have the power in cases like this to call people in and should therefore be able to put the voice of the pensioners across and to try and get the best deal as possible for them.
"I am not saying that she [Titcomb] could veto the transaction, but there should be a period where the regulator would have a duty, not an option, to bring people in."
He added: "The regulator started to act two days after Carillion collapsed. Where were they for goodness' sake?"
He denied that heightened regulation would make it more difficult to sell businesses with pension deficits, pointing to the settlement reached last August between Tata Steel and the British Steel Pension Scheme (BSPS), which allowed Tata to merge its European steel business with German steelmaker ThyssenKrupp.
Tata was allowed to offload the scheme into pensions lifeboat the Pension Protection Fund in return for injecting £550m into the scheme and BSPS acquiring one third of Tata Steel UK.