Sir Philip Green's Arcadia fashion retail business has launched an innovative work experience scheme designed to address the frequent disconnect between education and business.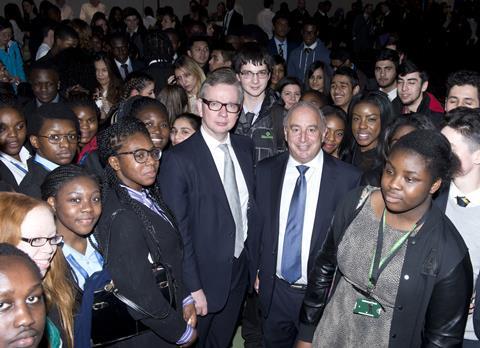 Arcadia is backing an initiative in partnership with Highgate School and 15 other schools in London, in which students will have the opportunity to have hands-on experience at Arcadia by going through a competitive recruitment process.
They will also be able to attend business masterclasses run by the retailer's staff in specialisations ranging from logistics to ecommerce, get advice on CVs and interviews and learn about the opportunities the retail industry offers.
Green launched the venture last night, alongside Education Secretary Michael Gove, to hundreds of young people. Gove encouraged other retailers to run similar work experience schemes.
Green hoped the scheme would benefit those intending to go on to university as well as those who might choose to seek a job straight away by providing 'real world' experience and a reference afterwards.
He said: "We thought, what could we do to bring some business into schools and give people an idea of what they might want to do in future – not interrupting if they want to go on to university - or giving them an opportunity where they didn't know there was one. We'll see how maybe we can give people some direction in their life or work."
Green advised the students not to underestimate the importance of real-world relationships in life and business at a time when people increasingly communicate through social media.
He said: "Eye-to-eye contact and going to see people is the right way. You've got to get up in the morning and love what you do. If you do that and push yourself you'll win, although there are tough days."
Gove told the students: "The partnership between Arcadia and Highgate will give you the opportunity to learn from one of the most exciting, glamorous, vibrant industries in the world.
"Without the wealth creators of our society we are nothing. With the experience of spending some time in a work environment, whatever your accomplishments, you'll become a more rounded person.
"The more companies that offer work experience the better. I hope other retailers will see what they can do."
Green has a longstanding interest in education. He was the driving force behind the creation of the Fashion Retail Academy, which is also backed by retailers including Marks & Spencer, Next and Tesco.
The Academy's success is reflected in the fact that 65% of those who complete the course gain full-time work in the industry afterwards while many others continue their education by going to university or taking further courses.