A sunny Wednesday in June. A room in John Lewis's offices. Roadworks outside. It can only be London.
We were judging The X-Factor for retail tech, without the costumes. Twenty teams, whittled down from 280, had 10 minutes to impress.
A gruelling three hours later, we had seen intelligent doorbells, clever beds, smart homes, a variety of time-saving mechanisms and a really cute robot called Marty.
Much debate fuelled by caffeine followed.
Five finalists were chosen to spend the next 10 weeks getting their products ready for Pitch Day in John Lewis's Victoria headquarters.
Getting it right on Pitch Day could mean winning investment from the retailer or L Marks, a tech fund and innovation specialist.
Or potentially even better, a contract with John Lewis to stock their product or implement their technology.
Link-Big
A long way east, at the edge of the Mediterranean, is Silicon Wadi. It is Emea's hottest tech hub, and many of the world's tech giants have bases here.
Tel Aviv is widely regarded as the best place for a start-up outside California, a fact re-enforced by the number of Israeli companies listed on Nasdaq.
"You need to get the follower directly to the product page. None of us wants to click any more than we need to, after all"
So why would Nadav Raviv and Yinon Werner, the team behind Link-Big, leave this vibrant environment to spend 10 weeks in a UK accelerator programme?
Link-Big believes that great pictures, likes, comments and re-grams [when an Instagram user posts a photo from someone else's account to their own] are not enough to make #instagram worthwhile to retailers.
You need to get the follower directly to the product page. None of us wants to click any more than we need to, after all.
And for the retailer? Hopefully a much coveted conversion.
And for Instagram? The higher the conversion, the lower the cost per action and the prettier the advertisers' cohort curve. Which makes it easier to persuade advertisers to divert budget to you.
Especially when others are literally snapchatting at your heels.
Size matters
While Israel has the energy and skills, the tiny domestic market makes scaling difficult.
Britain offers that scale. It also offers up a sophisticated and diverse retail environment, allowing the engineers to fine-tune their technology with a knowledgeable, impatient and critical audience.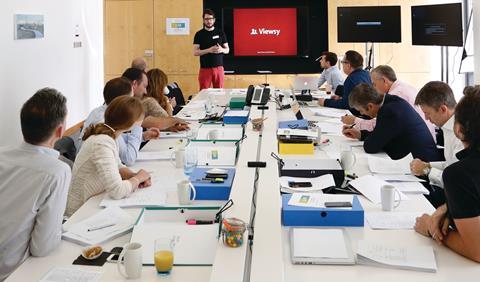 At Jlab, the ideas get ripped apart, the technology gets challenged and standards get raised. And on Demo Day in September, your tech had better work, or the audience will simply switch off.
For Nadav and Yinon the learning curve was steep, compounded by an unfamiliar culture and language.
But the pace and pressure of a lab means that there is no time to reflect. You just have to get it done.
Six weeks after demo day, Link-Big has secured its funding. The boost they have received both financially and to their confidence has meant a raft of new clients and a glimpse of the scale they so desperately need to innovate.
For John Lewis, it has had first dibs at some of the most exciting ideas being developed. It gets a slice of the action.
In this, the toughest times our industry has perhaps faced, accelerators like Jlab make sure that while we fight fires, desperately trying to serve and keep today's customer, we keep our eyes on how we can win those who might shop with us tomorrow.
Indira Thambiah is retail consultant and senior advisor at VentureFounders.co.uk