The big four grocers are fighting back against discount retailer Aldi in the battle to win consumer spend.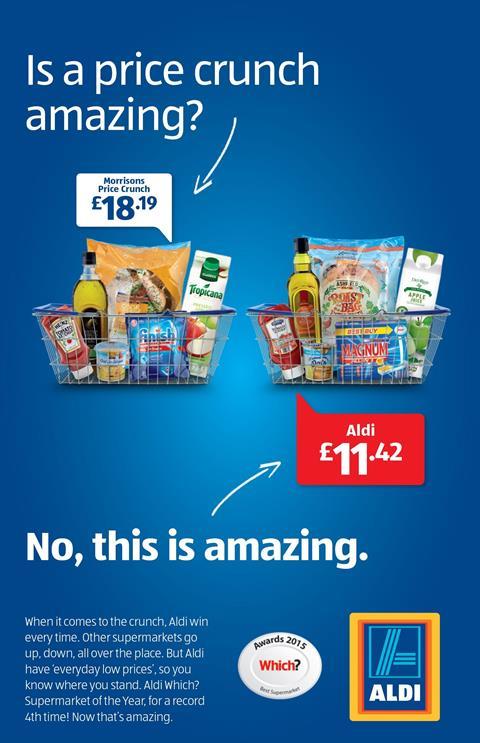 For the first time in a long time Aldi appears to have stumbled, in PR terms at least.
The question is whether such an unaccustomed trip-up is a sign that the retailer, in its headlong rush for growth, might end up sprawling flat on its face or regain the poise it has more typically shown.
Aldi got its knickers in a twist over Morrisons' latest round of price reductions and responded with an ad campaign deriding the Bradford grocer's initiative and trumpeting its own "amazing" value.
The only problem was that Aldi's comparison was widely seen as one between the proverbial apples and pears or, in this case, branded and own-label lines. The picture it painted was partial, to say the least.
It didn't wash with competitors and industry observers but the final arbiters of value will be shoppers, who are a canny lot.
Consumers have switched from some of the established grocers to Aldi and rival Lidl because they clearly saw the value on offer. They liked the simplicity of the proposition, they were pleased by product quality and had apparently grown distrustful of over-abundant promotions elsewhere.
However, the big four have been fighting back. Sainsbury's has held its position well and this year will finally scrap multi-buy deals in favour of lower prices. Morrisons, under David Potts' leadership, had a better than expected Christmas and is re-establishing its value credentials.
Aldi is a class act. It continues to open apace. But broker Bernstein calculates that like-for-likes at mature stores are "close to flat".
It seems as if the empire, in the form of the big four, is striking back.
Shops shape up in January as footfall rises
There was good news for bricks-and-mortar retail as the latest BRC and Springboard data showed the best footfall in two years in January.
Similarly, shopping centre owner Hammerson reported that footfall last year was up, compared with a decline in 2014. Sales at its centres, such as Reading's Oracle, also rose.
After a period, including last year's golden quarter, when it seemed shops were increasingly besieged by their digital competitors, both developments are welcome.
However, it's a bit too early to uncork the Champagne. While the one-month figures may have been up, they were still down on a three-month basis, other than in retail parks.
Hammerson attributed its success in part to the "experiential" nature of its appeal to shoppers, a characteristic that retailers can benefit from focusing on.
Dunelm, where John Browett has just taken the helm formally, also aims to make the most of what distinguishes shops from online, as it cuts "waste activity" in store and concentrates on freeing staff time to help customers.
As online grows, shops still have a future as long as they make the most of the strengths that distinguish them.