Online to offline is a growing retail trend. Expect pureplays increasingly to buy bricks-and-mortar competitors as new retail models are sought.
"Online isn't the future, online is now," a retail chief executive with ecommerce and bricks-and-mortar experience recently told me.
The implication was that, while the rise of pureplay ecommerce has changed the face of retail, it will not – important as it may remain – necessarily be all that matters tomorrow.
So what will matter? That's the question retail leaders are increasingly trying to get their heads around.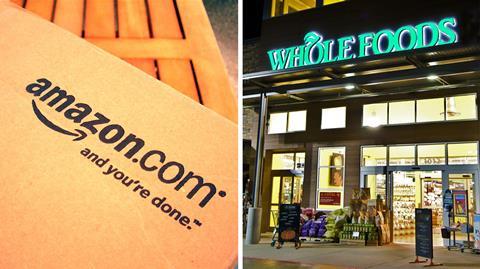 A trend of 'online to offline' – online retailers opening physical stores – is one shift that is drawing interest and is thought likely to be one of the directions of travel that will shape the retail industry.
The last week brought the trend into sharp relief as Amazon agreed a $13.7bn takeover of specialist grocer Whole Foods Market, which has 460 stores.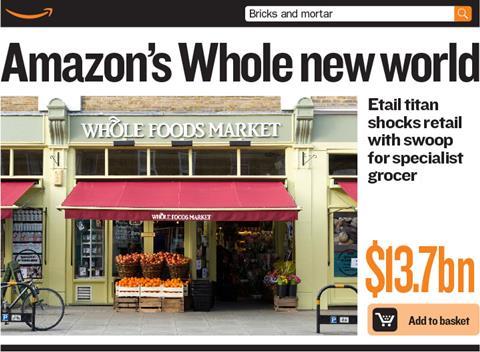 Amazon's phenomenal growth and resultant power was supposed by some to have heralded the end of bricks-and-mortar retail. That view was clearly wrong.
Separately Walmart, Amazon's arch-rival whose reliance on stores meant it was characterised by ecomm zealots as a dinosaur from a retail Jurassic Park – snapped up online fashion specialist Bonobos for $310m.
While Bonobos will sit in Walmart's US ecommerce division, it too is a business that has moved from online to offline. Bonobos stopped being a pureplay in 2011 when it started opening Guideshops to "deliver personalised, one-to-one service to those wanting to experience the brand in person".
As well as its own stores, Bonobos began selling its products through department store group Nordstrom's 118 shops as well as on the Nordstrom website.
Global trend
The online-to-offline momentum is not restricted to the US. It is playing out globally.
Chinese etail Goliath Alibaba, for instance, presaged Amazon's Whole Foods deal when it bought into store chains. First in 1,600-branch electricals retailer Suning, in which it took a 20% stake for $4.6bn in 2015.
Then, at the start of this year, Alibaba struck a partnership with Chinese grocery and department store group Bailian to embark on a tech-led overhaul of the latter's 4,700 branches. That followed a bid for department store group Intime, said to be valued at $2.6bn.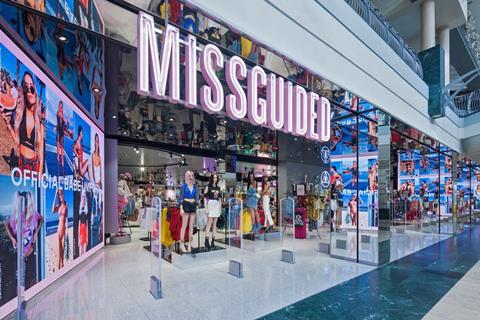 In the UK too, the online-to-offline switch is apparent. Etailer Missguided has begun opening shops, at Westfield and Bluewater, a venture blending the live-streaming of social media feedback with the retail theatre designed to help the retailer stand out.
Missguided is not alone. Online furniture etailer Made.com now has seven stores and online grocer Ocado has launched a beauty fascia, Fabled.com, on London's Tottenham Court Road, in partnership with Marie Claire.
Such changes show that ecommerce, still seen by many as the new kid on the retail block despite now being established for two decades, is changing rapidly and is going through shifts just as seismic as its original debut.
Old-fashioned ecommerce
It's worth asking the question: is ecommerce even a relevant term anymore?
Think of Amazon's Alexa, which is integrated onto its Echo speaker device. It's digital, certainly, but it's light-years away from what might be termed ecommerce, which is typically shorthand for a website.
Alexa has as much in common with face-to-face retail as it does with old-fashioned ecommerce.
Its reliance on the human voice on its own blurs the boundaries between technological capabilities and human characteristics. It removes the need to access a website or an app, previously seen as the frontlines of choice and convenience.
Is it too farfetched to imagine that, easy as it may be, taps and swipes on phones or searches on websites may soon seem as outmoded and clunky as the schlep of old to the high street or retail park?
At the start of this year, Morgan Stanley analysts estimated that Amazon sold 11 million Echo devices between mid-2015 and the start of December 2016.
Most were thought to have been sold in the US, but the assumption was that about 300,000 were sold in the UK.
Technology-enhanced or tech-driven retail is no longer just about websites, although they will, of course, continue to play a central role.
The move away from the site's importance, and towards a different and perhaps even greater role for technological innovation in retail, is clearly at play in Amazon's acquisition of Whole Foods, just as it is in the development of Alexa.
Why should Amazon buy Whole Foods?
There are some very specific reasons why Amazon should buy Whole Foods.
Top is that Amazon, the great white shark of general merchandise that has devoured market share from books to fashion, is a minnow in food.
Amazon, which originally launched its AmazonFresh grocery business in 2007 and brought it to the UK a year ago, holds a market share in its home market of just 0.19% according to researcher GlobalData.
In the US, as in the UK, online accounts for only 10% of grocery sales.
The remainder lies in the hands of bricks-and-mortar giants such as Walmart, which speaks for almost 15% and Kroger, which controls just over 7%.
Under pressure as they may be, traditional retailers retain the lion's share.
So it makes sense, if Amazon wants to be a serious food player, to buy into the market – and it has made its intentions clear in the fact that the purchase of Whole Foods is its biggest-ever acquisition by value.
And while the deal has created ripples across food retail worldwide, Whole Foods itself is a tiddler. It accounts for 1.21% of the US grocery market.
There, however, lies the opportunity. Amazon has won control of a business of scale, but the direction of it is likely to be easier to change than that of one of the grocery oil tankers. And it allows plenty of scope to try out new ideas without betting the house on any single one of them.
"Imagine the power of the Whole Foods brand, backed up by the customer knowledge wielded by Amazon"

George MacDonald, executive editor
So, imagine the power of the Whole Foods brand – its visual merchandising skills, its food supply chains and its store network – backed up by the data insights, analytical capabilities and customer knowledge wielded by Amazon.
Whole Foods lines could help Amazon build its fledgling food business through the provision of well-known, well-regarded produce and access to established supply lines. Those products could be sold on AmazonFresh just as easily as through Whole Foods' channels.
Similarly, there are opportunities for Amazon to use Whole Foods' branch network to complement, enhance – or even replace some aspects – of its own grocery distribution channels.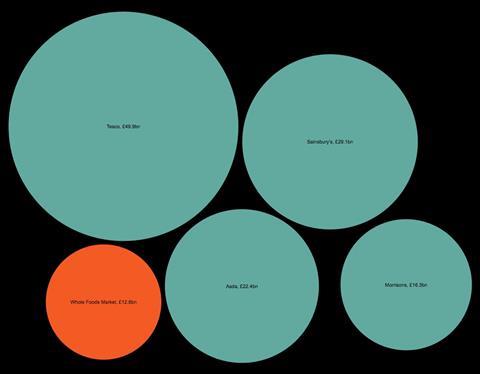 Expect others to follow suit
Amazon's offline-to-online move is likely to be replicated across retail.
The development of the so-called 'physical web' has so far been limited to initiatives such as beacons - apps that push promotions and information to shoppers in store. This has not ignited much consumer interest. But, as better ideas and models emerge, it no doubt will.
Electricals retailer Dixons' merger with Carphone Warehouse was predicated on the growth of a connected world, in which technology and everyday life – such as self-replenishing fridges – would converge.
Could online fashion etailers also get in on the action? Might they follow the lead of Bonobos and find ways of selling in-store – perhaps by wholesaling if their own-brands are strong enough? Maybe just limited collections, but a toe in the water nevertheless.
Similarly, expect the online to offline trend to be felt as retailers increasingly run their stores in the same adaptive, responsive ways that they do their websites.
Digital mortar
It's already happening. Etailer Pro Direct, which describes itself as "the world's leading online supplier for sporting goods" has a store on London's Carnaby Street.
It's run like a website, and described as being "digital mortar".
The shop brings together "immersive digital experiences" with a physical presence and stocks top brands such as Nike and Adidas.
That ambition, of running stores with the rapid response characteristics of a website is exactly what Alibaba aims to achieve through its involvement in bricks-and-mortar retail.
Its tie-up with Bailian will allow transactions to be observed as they occur, opening the door to possibilities such as ordering product in real time.
"We will be a destination for 'social shopping' with mobile the unifying platform for interacting with our customers"

Sergio Bucher, Debenhams
Online to offline is perhaps most evident in the UK in how department stores are remodelling.
In the case of Debenhams, even its boss has gone from online to offline – Sergio Bucher worked for Amazon before joining the department store business.
Bucher has hung his hat on the nail of what he calls 'social shopping'.
When he unveiled his strategy in April, he said: "Shopping with Debenhams should be effortless, reliable and fun, whichever channel our customers use.
"We will be a destination for 'social shopping' with mobile the unifying platform for interacting with our customers.
"If we deliver differentiated and distinctive brands, services and experiences both online and in stores, our customers will visit us more frequently and, having simplified our operations to make us more efficient, we will be able to serve them better and make better use of our resources."
The multichannel challenge
The basic rule once applied by former Waitrose boss Mark Price was to 'go the other way' – to do precisely the opposite of what rivals do.
That was also one of the ground rules of retail legend Sam Walton, founder of Walmart. While the business he founded is now seeking new direction, the mindset he brought is no less relevant in 21st century retail as it was in the latter half of the 20th century.
As Amazon once again confounds opinion about the direction of retail, the point perhaps is that one and one has to make at least two – not one and a half.
That's been the multichannel challenge for a long time as established businesses have carried the traditional costs of retailing – such as stores and staff – while having to invest in online operations and all that goes with them, such as smooth fulfilment.
Amazon is guided by four principles which it highlighted in its statement on the Whole Foods deal: "Customer obsession rather than competitor focus, passion for invention, commitment to operational excellence, and long-term thinking."
Amazon is a giant consumer laboratory. And, as in science, old theories and once-overlooked analysis can bring different perspectives when new information emerges.
The takeover of Whole Foods is both a reminder that old ways can sometimes be the best ways, when new ways of doing business bring reminders of insights that could otherwise have been lost.
When Amazon is moving online to offline, do so-called 'old-fashioned' retailers realise the gold dust they hold in their hands?
Action points for retailers:
Pureplay retailers
Online specialists are increasingly shifting away from reliance solely on their websites, whether mobile or desktop.
Voice technology is growing in importance, evidenced by the popularity of Amazon's Alexa and Amazon's proposed acquisition of bricks-and-mortar retailer Whole Foods.
While traditional ecommerce continues to grow, are you confident that your proposition caters for how people may shop in future? What opportunities are there to extend and adapt your proposition?
Bricks-and-mortar/multichannel retailers
Retail's biggest innovators, such as Amazon and Alibaba, no longer see websites as sufficient in the contemporary and future retail environment. Store chains are investment and acquisition targets.
What opportunities are there either to work in partnership with tech giants to enhance your multichannel offer, or to better exploit assets such as store networks?
All retailers
Amazon's and Alibaba's willingness to invest in building their businesses in the most unexpected ways, is perhaps the biggest change agent in retail globally.
Are you investing to the benefit of the shopper, or seeking only to cut costs? If the latter, you are likely to hit trouble.
Winning license to invest is likely to rely on the ability to convince shareholders that investment and imagination – and sometimes they will fail – will be central to long-term success.