Pets, DIY and health and beauty to become new battlegrounds.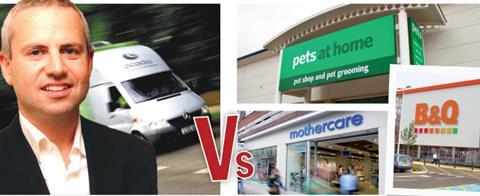 Ocado is to go head-to-head with retail giants including Boots and Mothercare with a raft of category-specific general merchandise websites.
Ocado chief executive Tim Steiner said he intends to move the online grocer "from a supermarket to a hypermarket".
The "destination stores" could prove a defining moment in the etailer's growth trajectory as it extends deeper into general merchandise categories in search of profits and market share.
Ocado will sell products through dedicated sites across pets, baby, health and beauty and home and garden, pitching it against a swathe of established retailers including Pets at Home, B&Q and, crucially, Amazon, which bridges many of the same sectors.
Ocado already sells some items across the categories through its main website, but etail expert Ecommerca chief executive Michael Ross said Ocado's strategy to launch separate websites for the non-food offer was "sensible".
"Food shopping is a very different journey to non-food – it's about speed and bulk buying where non-food is about browsing, discovery and user ratings," said Ross.
Ross said the approach would enable Ocado to present products in a better way than Amazon, which he said "does not do curation well".
Steiner told Retail Week that the non-food products Ocado sells at present are available in supermarkets generally but the new strategy "will take us to the level of a specialist store".
An Ocado spokeswoman said the number of SKUs per site is likely to be equivalent to a high street specialist store at first before a range is developed that will replicate an out-of-town warehouse.
The first of the sites will launch in the first half of next year and will enable shoppers to have products delivered along with a conventional Ocado shop.
Ocado has identified non-food as a key source of growth and last year poached Simon Belsham from Tesco to head its non-food business. It is also spending £5m on a non-food warehouse.
Oriel Securities analyst Jonathan Pritchard said: "Branching into specialist websites is a perfectly good idea but it takes a long time to establish a brand in non-food that's naturally associated with food."
The Ocado boss issued a broadside to its rivals Sainsbury's, Tesco and Waitrose's online growth claims which have caused analysts to suggest Ocado is losing market share.
He said: "The only person who claims to be growing faster is Sainsbury's, but they have not put out audited numbers."
Steiner accused Sainsbury's of "bragging" and that is cannibalising its store customers by moving them online.
A spokeswoman for Sainsbury's said: "We were surprised by these comments as our online grocery delivery numbers are all verified by external auditors. Then again it hasn't been easy for Ocado lately so they're in a tough spot."
Ocado has relaunched its home page in the last two weeks to improve its navigation. Steiner said some smaller categories which are now easier to find have seen a 40-50% sales uplift since the revamp. It has also relaunched its iPad App tailored to the device.
The etailer reported flat pre-tax profit of £181,000 and 4.5% growth in EBITDA to £14.9m in the 24 weeks to May 13 this week. It has hired former Kingfisher and Fitness First finance director Duncan Tatton-Brown as its new chief financial officer, starting on September 1.