Up-to-date coverage of the latest events in UK retail.
4:10pm Sears chair submits new £3.9bn takeover bid
The chair of US retailer Sears has submitted a new $5bn (£3.9bn) takeover bid in an attempt to save the company from going into liquidation.
Eddie Lampert submitted the revised bid for the department-store chain on Thursday, agreeing to assume all "tax and vendor bills" it has incurred since filing for bankruptcy in October last year, according to Reuters.
Lampert says the offer will preserve "up to 50,000 jobs". Sears employed some 68,000 people when it filed for bankruptcy.
9:48am Halfords shares slump on profit warning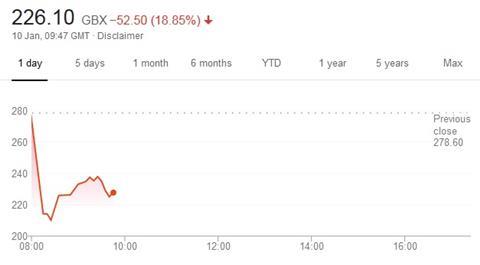 Halfords has shed almost a fifth of its market value in the wake of this morning's profit warning.
The business said this morning that full-year underlying pre-tax profits would now be in the range of £58m to £62m, following a 2% decline in group revenue during the 14 weeks to January 4.
7:45am Halfords warns on profits as Christmas sales skid
The cycling specialist posted a 2% fall in group revenue as a 1.9% increase in sales across its auto centre division was offset by a 2.5% decline in retail sales.
The retailer's like-for-like sales fell 1.7% overall, down 2.2% across its retail division and up 1.4% across auto centres.
7:32am M&S Christmas sales slump in 'difficult' market
The department store retailer posted a 2.7% fall in total UK sales to £2.7bn in the 13 weeks to December 29, exacerbated by a 2.2% drop in like-for-like sales.
The retailer's food sales declined 1.2% overall to £1.6bn as like-for-likes fell 2.1%.
Clothing and home sales dropped 4.8% to £1.1bn as like-for-likes slid 2.4%.
7:31am John Lewis Christmas sales rise driven by fashion
Across the John Lewis Partnership, gross sales were up 1.4% to £2.2bn in the seven weeks to January 7, as sales at the department store recorded a 2.5% sales uplift year on year to £1.1bn bolstered by a 1% rise in like-for-like sales.
Waitrose posted a 0.2% rise in gross sales excluding fuel to £1bn, up 0.3% on a like-for-like basis.
7:28am Card Factory hails 'strong' Christmas trading period
Card Factory hailed a strong Christmas trading period despite full-year like for likes remaining broadly flat.
The gifting card specialist said like-for-like sales fell 0.1% during the 11 months ending December 31, 2018.
Online saw a surge with CardFactory.co.uk sales increasing by 59.1%.
7:15am Debenhams suffers festive sales slide
Debenhams has suffered a slide in Christmas sales but insisted it remains "on track" to meet full-year expectations.
The department store business said reported like for likes fell 3.4% in the six weeks to January 5 and 5.7% across the wider 18-week period.
7:07am Tesco outgrows mainstream grocers at Christmas
Tesco has racked up its 12th consecutive quarter of growth as Britain's biggest grocer said it "outperformed" the market in the crucial Christmas period.
The supermarket giant said like for likes grew 2.6% in its core UK and Ireland business during the six weeks to January 5.
Tesco hailed "outperformance in all key categories" including food, clothing and general merchandise.
Across the wider 13-week quarter to November 24, like for likes in the UK and Ireland advanced 1.9
Sears chair submits new £3.9bn takeover bid