Since Marc Bolland joined the grocer three years ago Morrisons' revival has been dramatic. He tells Jennifer Creevy why fresh is working best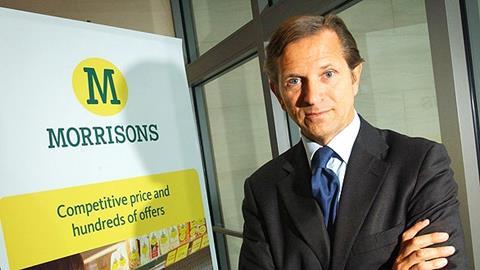 Morrisons chief executive Marc Bolland could not have planned it any better. On our walk around the Morrisons store in Camden, north London, last week, a customer stops him to tell him what a wonderful shop it is.
"When something is good I would always praise it," she says. "And the store is amazing. It has everything I need and the store manager is excellent."
Bolland is grateful for the praise, but promises he did not set it up. "It can't have been my cousin," jokes the Dutchman. "Because there was no Dutch accent, was there?"
The Morrisons boss does not just take the applause and run though. He questions the loyal shopper on range and availability to see if there are any chinks in the grocer's armour.
Her reply – which on the surface seems slightly negative – also highlights one of Morrisons' key points of difference. She says: "Overall the range is excellent, but sometimes on a Friday evening the availability is limited in fresh food like tomatoes and lettuces.
"Sometimes I just need to grab a couple of extra bits on my way home for the weekend and I can't find them. And I really don't want to have to go to Tesco or Sainsbury's."
Bolland explains that the store takes fresh deliveries each night for the following day and Friday is one of the shop's busiest days. He says the store would not ask for a further fresh delivery half way through the day because it would not sell everything and would be saddled with waste.
"We never put leftovers out the following day. We would rather go a bit short sometimes to ensure the quality. We wouldn't push through an order at 12pm to make sure we're full at 6pm and then have to stick it out in the morning," he says.
The shopper goes away satisfied with the explanation, although Bolland does promise to check if the fresh orders need to be upped slightly on Fridays.
Fresh ideas
Fresh produce is one of Morrisons' two key promises, the other being value. And for Bolland, the promises are what makes Morrisons different from the other big three grocers.
Walking around the store's Market Street – including a baker, butcher and fishmonger in a market-style format – he is keen to show off the freshness at every station.
The bread, he points out, is still warm because it has just come out of the oven. The butcher gets in fresh carcasses straight from farms and cuts them up in store. Whole fish are delivered to the fishmonger daily and nothing is frozen.
"Market Street makes us different," he says. "Other retailers will have the same in terms of non-food for example, and have been doing it a lot longer than us, but they don't have the same fresh meat or fish. And it is a concept that can work well in any economic environment. We are working on some products now that can be launched when we come out of the recession."
Morrisons is further developing its relationship with farmers by establishing a research farm in partnership with the Scottish Agricultural College to help farmers become more sustainable without compromising efficiency.
Morrisons' success can be seen in last month's TNS Worldpanel figures. The grocer led the pack and increased its share of spend by 9.3 per cent in the 12 weeks to June 14. As well as being ahead of the other big three grocers, Morrisons' growth was ahead of discounters Aldi and Lidl, which have slowed in comparison.
While Bolland does not make predictions – the reason he does not do many interviews is he "doesn't want to be verbal on things", rather he wants to be "right on things" – he points to the growth Morrisons has achieved since he joined from Heineken three years ago in August.
"I can't say if this growth is sustainable," he says. "After achieving more than 9 per cent [like-for-like sales] over Christmas two years ago people asked me what would happen in March.
Then March came and they asked me what would happen in summer, then the following Christmas. The same pattern kept happening and we're still going strong."
The level of growth meant Morrisons became the first retailer to win the coveted Retailer of the Year accolade for two years on the trot at the Oracle Retail Week Awards in 2008 and 2009.
Bolland is also clear on the promise of value. He continually points out what he calls his "sharp pricing" throughout the store – for example, potted herbs for 50p. And while the major grocers have been even more promotionally weighted since the recession started, Bolland believes Morrisons creates its own path when it comes to offers.
Last week Morrisons hailed the return of the bogof – the once-ubiquitous promotion that all the grocers ditched when the recession hit as shoppers started to limit their spend and wanted money-off deals instead.
"This summer we feel that customers will start to stockpile and buy on a larger scale for certain items," says Bolland. "And we like to be anti-cyclical.
If everyone else ditches bogofs we go against that and bring them back."
Morrisons' Let's Grow campaign is another example, says Bolland. Last summer the grocer launched the campaign to engage local schools in growing their own food – an initiative to "do something for the community and promote our fresh offer," says Bolland.
The campaign smashed its initial target of 6,000 schools in the first three months when 18,000 signed up. More than 40 million vouchers have been redeemed so far, and some are even being traded on eBay.
The campaign – which will launch its second phase this year – captured the trend of growing your own, which has since taken Britain by storm and earned Morrisons a Silver Lion at the prestigious Cannes Lions International Advertising Festival this year.
"It is unique for a supermarket to win one of these awards as they are usually dominated by the huge brands and just shows how innovative it was, as well as effective," says Bolland.
Competitive advantage
Bolland makes a point of not talking about rival supermarkets, but says that Morrisons' promotions are always competitive. "I am not interested in doing the same as the others and feel that it [UK grocery] has been too much of a copying world," he says. "Customers come to us for something different."
Keeping promises – in Bolland's case on delivering fresh and value – is something he shares with the grocer's founder Sir Ken Morrison. "The culture of Morrisons is very much a can-do mentality and we keep our promises," says Bolland. "If you speak to our suppliers, they will tell you that."
He explains that if Morrisons makes a promise to a supplier or brand to promote one of their offers on a central aisle, then that is what it does. "We will keep that offer there for the entire week and make sure it is replenished. The can-do mentality is important and we must deliver what we say we will."
Bolland says that he has worked to protect this culture even though Morrisons has undergone significant change since he took over. "We've changed so much of the range, reformulated about 1,200 lines, refreshed the stores and brand, but kept the culture of can-do and honesty."
He points to the shopper who stopped him in the store to talk about availability on a Friday evening. "I could have told her any story but you need to be honest. And hopefully she appreciated the honesty."
Mock-rolling up his sleeves, Bolland explains that Sir Ken Morrison thrives on the can-do attitude. "He's a Yorkshireman and that's what they're like," he smiles. "In the store environment and the fact that Morrisons is a completely different shop now than after the Safeway deal – maybe that's the Dutch touch," he adds.
Morrisons' phenomenal growth has made it a darling of the City, but ever-impatient analysts want to know what comes next. Some have criticised Morrisons for lagging behind the other big three grocers in terms of convenience shops, non-food and online shopping.
Bolland says: "We have very strong growth opportunities and have noticed that in locations where we were previously absent and have recently opened stores we have become a bit of a favourite. In the South for instance we are seeing double-digit growth."
He explains this potential means Morrisons still has an enormous amount of growth to come through store openings. "We have 1 million new customers through our doors each week and those shoppers are staying with us," he says. "But 35 per cent of households in the UK don't have a Morrisons within 15 minutes' drive and 40 per cent have not visited a Morrisons in the past year so have not seen all the range development we have done."
Morrisons remains committed to taking its brand nationwide and has developed a smaller store model – of 11,000 sq ft upwards – so it can open in more locations.
"We have always had some smaller stores but they aren't convenience shops," says Bolland. "We wouldn't be able to take Market Street to a convenience store so we wouldn't be able to deliver the Morrisons concept. We would never say never, but it's not on the agenda."
Bolland says the same about online. "People should be able to see our fishmonger and you can't judge that quality online," he says. "If someone has been into one of our stores five times and tried all the ranges and liked them, then orders the same from home, that's different. But if a third of the population has not yet been in a Morrisons store, we need to get them through the doors first."
He also points out online needs to generate returns. "I need a business model that makes money. That's not being negative, just realistic."
Bolland is quick to point out he is in favour of innovation but needs the model to work first. At Heineken, he explains, he was the pioneer of innovations such as a self-draught system for the home, which works in the same vein as an espresso machine but for beer. "I love innovation but it has got to work," he says. "Once all shoppers have had a look at our stores we will think about online."
In non-food, Morrisons has invested in range development and is making the space work harder. "Unlike other grocers we will not major on non-food because our stores don't lend themselves to it. We will make the ranges work better and make our prices sharp. That's what we're about."
As Bolland nears his three-year anniversary at Morrisons he is as excited about the challenge now as he was then. "I love it at Morrisons," he says. "And I love retail because it really opened my eyes. My last industry was called FMCG but actually it is quite slow. The ones that move it fast are retail. And that's why I like retail."
Judging by Bolland's performance so far, it seems that retail also loves him.
The Morrisons miracle in numbers
8.2% Like-for-like sales, excluding petrol, in Q1
£14.5bn Turnover up 12% from £13bn for the year ending February 1, 2009
£665m Pre-tax profit, up from £612m for the year ending February 1, 2009
1 million New customers through the doors a week
9.3% Increase in share of spend for 12 weeks ending June 14, according to TNS Worldpanel
5,000 New jobs to be created this year