The Mayor of London will reconsider the decision to approve Marks & Spencer's planned demolition of its Marble Arch store following a major backlash.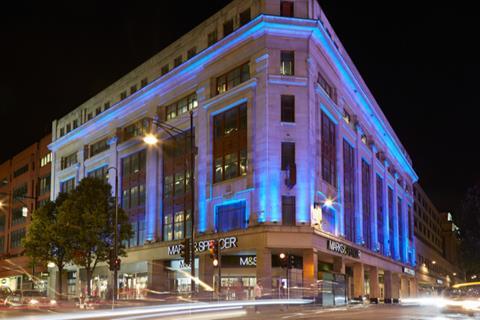 Sadiq Khan has pledged to revisit the proposals after Greater London Authority climate adviser Simon Sturgis suggested the waving through of the plans showed the Mayor "isn't serious about net zero".
Westminster had given its backing to the demolition and rebuild scheme last November, before deputy mayor for planning Jules Pipe said last month that he was "content to allow the local planning authority [Westminster City Council] authority to determine the case itself".
Labour councillor Geoff Barraclough, who voted against Marks & Spencer's plans, said the new build would cost almost 40,000 tonnes of up-front carbon - more than 20 times what the local authority aims to save annually through retrofitting buildings.
Prior to the Mayor's decision, Sturgis had sent the GLA his critical report on several occasions, which warned the plans were at odds with its planning policy.
Sturgis said: "It seems the Mayor isn't really serious about achieving the climate goals he's set out or net zero by 2050.
"Given the climate crisis and the need to change direction [on development and construction], many local authorities say they want to achieve net zero faster than central government. But they simply aren't delivering on that. This is business as usual."
But, as first reported by Architects Journal, Khan has bowed to pressure and will reconsider the plans.
A spokesperson for the Mayor of London, said: "In line with London Plan policy on Whole Life Carbon, the question of retention and refurbishment or demolition and new build was considered in the GLA's assessment of this application, and based on officer advice that there was no sound planning reason to intervene, on 7 March the Mayor made the decision to allow Westminster to determine the application.
"However, City of Westminster is yet to issue its planning decision, and the GLA has now published its planning guidance on Whole Life Carbon and Circular Economy.
"In light of this situation GLA officers consider it would be prudent to consider a further Stage 2 report, which would also allow consideration of the detailed report by Simon Sturgis examining the carbon emissions impacts of the proposed demolition. An updated Stage 2 report will be presented for consideration at the Mayor's meeting on Monday 4 April."
Meanwhile, M&S is expected to reveal next month that its joint venture with Ocado is meeting performance targets, triggering a £190m payment to the online grocer-cum-technology company. The payment will be made at the end of next year. It comes amid speculation that M&S will seek to grow its stake in Ocado Retail above its current 50% holding.
• Don't miss the best of the week – sign up to receive the Editor's Choice every Friday